For a healthy mental and physical body, we need to add physical activities in our daily lives, getting harder and harder for many reasons. Spending quality time with friends and family in this technology-based era is pretty hard. Watching a movie and playing video games together can also be considered family time, but these don't give you the most needed physical workout.
But rest assured, our blog is all about telling you about different activities and games that you can easily own in your house to spend quality time with your friends and family, which is also healthy. This article will discuss the 10 best ping pong tables, their types, and their features and pros. You don't need to be a professional player to play ping pong; the basic rules and gameplay will set you and your kids up for many fun hours.
Types of Ping Pong Tables
There are three types of ping pong tables suited for different environments, spaces, budgets, skill levels, and so on; indoor ping pong tables, outdoor ping pong tables, and mini ping pong tables. We tested each category to present the best among the other ping pong tables.
Indoor Ping Pong Tables
Indoor ping pong tables are the ones you have to keep inside your house safe from weather like hot sun, rain, and dusty wind because these are not made to withstand weather like these. They have a thin frame board than the outdoor ones. You can find different sizes, so before getting an indoor one, always ask yourself if you have enough space to place or store it inside your home.
Outdoor Ping Pong Tables
Outdoor ping pong tables are thicker and bigger than indoor ones. They have a strong build to withstand the harsh outside weather. You can keep them in your garage, backyard, or nearby your poolside.
Mini Ping Pong Tables
Mini ping pong tables are smaller than the regulars one and more of an instant setup and storing type of tables where you have a shortage of space.
Top 10 Best Ping Pong Tables To Consider
You have a general idea of which type best suits you and your family for unlimited fun hours. Let us now list the best ping pong table reviews of all three types to make things easy for you with all the pros, cons, and special features.
1.

JOOLA Inside – Top Rated Ping Pong Tables
It will only take 10 minutes for you to set up JOOLA Inside for a tight, fierce battle with friends and family. You can play it alone for practice by setting it up for a single-player playback mode. You can set the table net with the help of easy clamps.
We loved how this ping pong table is easy to set up and store. You can keep the table set or store it away when not in use. This table has wheels for easy placing & moving. Wheels also have a lock on them for a stable playfield during a match. The table has rubber leg levelers on each leg for more stability and a scratch-free floor.
It has a solid, reliable 13mm thick MDF frame board to play on. The frame board has a safety latch to keep the frame from moving or being unstable. The frame is divided into two parts to enjoy both worlds of a single and double play.
JOOLA has worked in the ping pong tables industry for over 60 years, so its product has the promised quality and durability. This table also comes with a year of warranty. You can always contact the help service of JOOLA for any unforeseen encounter with the package.
Pros
The table is very easy to assemble

You can move it around easily.

You can conveniently fold the table for storage.

It is made reliable and durable for a long, fun time.

JOOLA offers a year of warranty on this table.

It has scratch free rubber levelers on its legs for a stable game.

You can enjoy both single-player and double-player modes.
Cons
It is not weather friendly unless kept at a constant room temperature.

It does not come with a manual, so you must visit the website or watch a video.
2.

STIGA Advantage – Professional Ping Pong Table
The STIGA ping pong table is another great collection to kick boredom to the corner. You can play on it alone for hours or have a great friendly match with friends and family.
With a simple latch system, you can switch from one player to a double in seconds. It's pretty simple to set up you will only need 10 to 15 minutes to get ready.
Its top is 5/8″ thick, a good platform for all skill-level players. The surface is smooth, durable, and roller coating for best results and longevity. It has a lovely slate blue color platform.
LThis ping pong table comes with a quick attachment and removable net. The net even has an adjustable height mechanism which you can set according to your requirements. Just like an easy setup, you can easily store it away when not in use or if you have limited indoor space to manage.
We loved how the table legs moved upon opening and closing it. The table has adjustable rubber levelers to resize the height and protect the wooden floor from scratch marks. You can lock the wheels as well for better stability during the match.
STIGA offers you three versions of the ping pong table: the advantage lite and the advantage pro. All these have the same quality and durability, with the only difference in tabletop thickness. The advantage top is 5/8″ thick, the advantage lite top is 1/2″ wide, and the pro top is 3/4″ thick.
The top's thickness makes a good playfield area which determines the bounce level of the ball. The thicker the top is, the more durable it will be, and the bounce will be good. The ball bounce difference is only felt and detected by professional level players. 1″ thick top gives better ball bounce than 5/8," but if you are looking for a table that gives you good enough performance with durability at a reasonable price, then this one is an option to consider.
Pros
The tabletop has a good durable, smooth, thick top.

It is easy to set and easy to store away.

The table has adjustable height levelers on the net and legs to resize it according to your needs.

The lock on the wheels serves you with the most stable playing area.

It has both single and two-player modes.
Cons
This table is a bit heavier than other ping pong tables.
3.

GoSports Mid-Size Table With Complete Set – Best Foldable Ping Pong Table
GoSports presents a foldable ping pong table that is sturdy and lightweight because of its base material, wood & aluminum. You can easily fold it up for storage and fold it open to have instant matches.
The table has a handle installed to easily carry it around, making it a perfect option for indoor and outdoor activities for the user's convenience.
We checked this table and played there when we were at someone's daughter's birthday party. They had this on their lawn, and we enjoyed playing this.
You will get a net, two paddles, and 4 tennis balls along with the table. A whole package and, in true meaning, ready to have a battle within a few seconds after the setup. The entire tennis package is something that got us excited.
Since it comes equipped, we termed it a family fun table on the go. Because of its easy setup, folding, and carrying around, you can easily have this in your homes, offices, garage, playing rooms, nearby parks, parties, BBQs, and so on.
The wood frame is painted with layers to make the smooth surface for a good ball bounce. It has an exciting bright red color to it.
Pros
The ping pong table is lightweight for easy carry around with installed handles.

It comes with other accessories like a net, 2 paddles, and 4 tennis balls.

You can fold it for storage.

The platform frame has a smooth surface.

It is very easy to set up with its manual.

It is sturdy and durable and offers a stable platform to play on.
Cons
The table is not fit for professional tournaments.

It is not a full-size ping pong table (size already mentioned in the midsize title)
4.

JOOLA Midsize Compact – Best Small Ping Pong Table
We know how difficult it is to play any physical sport in tiny houses, dorm rooms, and apartments with no backyard or extra playing. Things could get hard in entertaining your little ones or teens as well.
Tables like JOOLA Midsize Compact come in handy in tight spaces like this. It is a midsize foldable blue ping pong table for keeping you and the kids entertained for hours. Since it is foldable, you can take it out anytime to play and store it in a closet or under a bed whenever you need space for other stuff.
The frame of the table is engineered wood of 1.8″ thickness. You will get an excellent ball bounce on it. You don't need to set up the table; fold it open, and you are good to go. It has a ping pong table net with clamps and a post set. It also has a 1-year manufacturer warranty in case of any defect.
The table has two halves that can be used for other fun games. You can use the table for games other than ping pong games, like playing cards, UNO, monopoly, board games, or some fun party games like throwing balls in a cup.
Pros
It is small in size that making it ideal for small places.

The table is foldable to store away when not in use.

It is light in weight and easy to carry around.

It has an excellent height to play comfortably.

The table is well-made, and it looks sturdy.
Cons
It is not weather-friendly to leave it outside.

Not suitable for professional matches.
5.

JOOLA NOVA – Best Ping Pong Table For Garage
You must have noticed that our list has JOOLA tables more than once. This company is trustable and has been manufacturing ping pong tables for over 60 years and supplying goods for the Olympics and big tournaments.
JOOLA NOVA has a waterproof net set and is weather friendly since basically it is an outdoor ping pong table, so this is a given aspect. Despite being weatherproof, you can still store it away by folding it. The table is portable with the help of wheels under the legs to move it from one place to another. You can lock the wheels for a stable platform with a safety lock during a match.
It took us 10 minutes to assemble it for intense matches with our friends. You can shift it into one player mode for practice. Its adjustable leveler legs make it easy to resize the height accordingly.
The table has a standard full size and a strong build for tournament matches and withstands the harshness of any weather to be in tip-top condition for every match. The table is ideal for pool sides, garages, or big backyards. Like other JOOLA goods, this one also comes with a 1-year manufacturer warranty.
Pros
It has a strong build and is weatherproof.

The ping pong table is sturdy and durable with great quality.

Despite being an outdoor table, you can still store it away by folding it.

Moving it around is a piece of cake because of the wheels.

The table net is also waterproof for longer durability.

You can resize the height with the adjustable levelers on the legs.
Cons
A few customers complained about receiving a damaged package.

It isn't easy to find the right spot to align both halves. It only happens with the uneven ground; otherwise, it is okay.
6.

Stiga XTR Series – Pro Ping Pong Table
Stiga XTR Series are XTR & XTR PRO indoor and outdoor ping pong tables with the right size and build suited for all skill level players. You can have simple friends and family matches and intense practices for tournament-based matches. It is an excellent option to consider if you have the space and budget.
The top frame of the table is an aluminum composite top with a smooth, even surface and is weather friendly, waterproof, and rust free. Despite being weather friendly, you can still store it away with a safety latch system to keep the boards standing still.
You can easily get the table ready in just a few minutes, approximately 10 to 15 minutes, for a quick match, either in single-player or double-player mode. It comes with a ping pong table net and a post set. It lets you adjust the height as well for comfortable playing.
We liked 60 days warranty offered by Stiga, plenty of time to test out the table for everything.
Pros
It is a sturdy, durable, and quality-based table.

It serves both one player and two player modes.

It has weather friendly, waterproof, and rust-free top.

Wheels make it easy to move around the place.

Adjust height accordingly with adjustable levelers.
Cons
You can not place it inside small rooms and apartments.
7.

JOOLA Rally TL – Best Table Tennis Table
We spent hardly 15 minutes taking it out of the box to assemble it fully for a fun match. The table was easily attached in no time because of the clamp design.
What made it different from other ping pong tables is that it has a ball holder for storing and an abacus scoring system to keep track of the score.
Like other JOOLA goods, this one also has a lock system on wheels for safety and stability. It is easy to move around and store by folding the top's two halves. The overall height of the ping pong table can be adjusted with the help of levelers.
The top board is MDF with multiple layers of paint of classic black color for a smooth surface and has a 5/8″ thickness. With its two halves, you can always switch between one and double player anytime, along with storing away. You can always contact JOOLA customer service because this one has a 1-year warranty.
Pros
It is big enough for intense tournament matches and practices.

The table has a strong build and quality for great reliability and durability.

It is easy to fold and store.

The ping pong table has adjustable legs along with wheels for convenient moving.

It has tennis ball pockets under the corners of the table.

You can keep track of your score with the abacus scoring system.

It has a 1-year warranty.
Cons
The customer service is quite lousy.
8.

STIGA Space Saver – Best Ping Pong Table For Home
This STIGA space saver tennis table comes with a table net and post system featuring leg levelers. The platform board has a thickness of 1.8″ with a roller coat for an even surface.
We didn't have to do much; we just unpacked it, then unfolded it, and it was ready to be tested. It has a smooth surface and levelers below the legs, further leveling the surface.
The table is divided into two halves that can be used for other games. It is a handy feature in small rooms and apartments where space is a big issue. Some even use them as mini dining tables, but we don't recommend doing that because they are not waterproof. Any watery accident could hinder the overall performance and quality of the table.
Pros
It has sturdy legs for the great support and can level the platform even on an uneven surface.

You can put away the table as well in storage.

The halves of the table can be utilized for other activities as well.

A quick assembling.
Cons
You can not play solo with this table.
9.

Hathaway Spartan Multigame – Coolest Ping Pong Table
These Hathaway tables double your friends and family fun with two sports in one, a pool game and a ping pong game. You can switch between these anytime, doubling the excitement of your guests at any party. The quality and sturdiness of the table are well established.
It is a mid sized table with a great color combination of black and red. You will get a whole set of pool accessories, including 1 pool ball set, 2 cue sticks, 1 racking triangle, 1 table tennis top, 2 paddles, a tennis net, and 2 tennis balls on the table.
Pros
It has two platforms for exciting games, pool and tennis.

The table comes with the whole set of both games.

It has a strong build and reliable legs for stability.

It doesn't take up too much space.
Cons
It does not have mobility or any storage feature.
10.

JOOLA Indoor 15mm – Best Portable Ping Pong Table
This table has three eye-catching colors, red, blue, and white. It has a standard size. The top of the table has a thickness of 5/8″. It is made durable. You can always switch back and forth from single player to double player modes.
It is another collection of tables from JOOLA, which can be easily folded up, moved, and stored with a safety latch installed. The strong legs of the table provide it with great stability and even a surface to play on. However, It took us longer to set this one up than other ping pong tables.
Pros
A very nice addition to your gaming room or house.

A strong build that promises durability.

It has three exciting colors on it.

Good for a single person practice.
Cons
The manual instruction is hard to follow.
Factors to Consider To Finalize On The Best Ping Pong Table-Buying Guide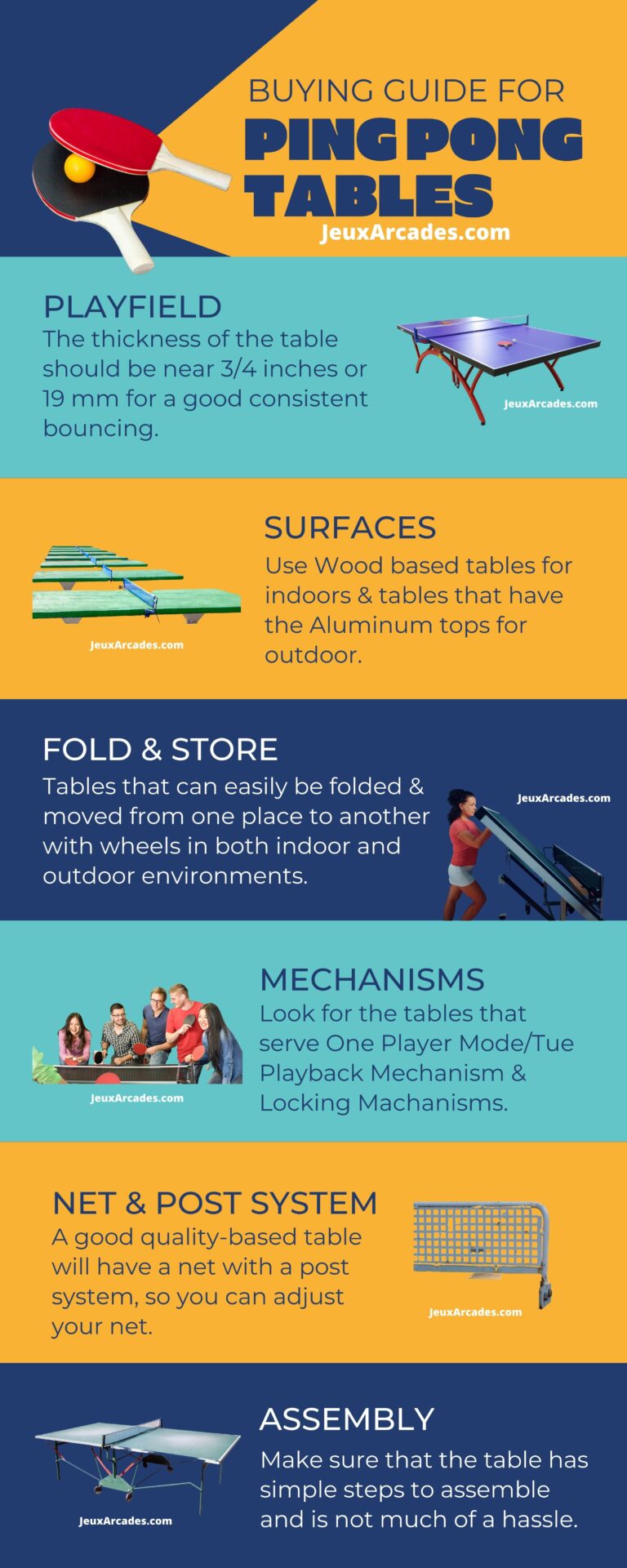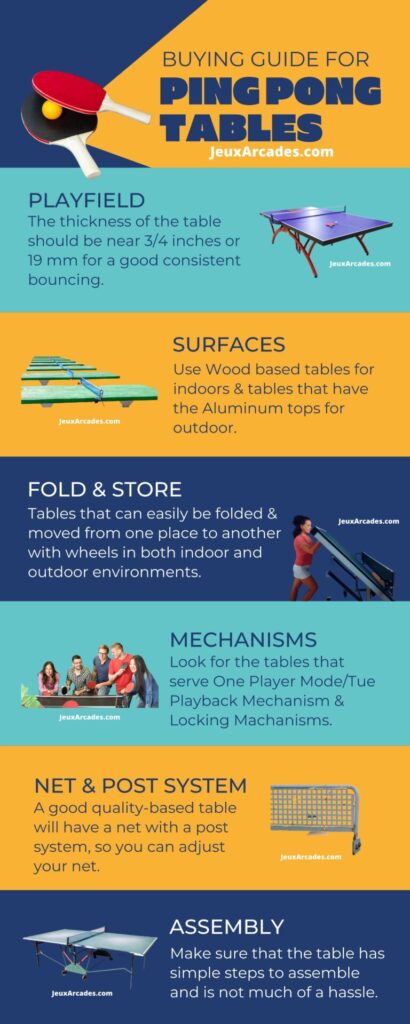 We tested out many tables, read a lot about what other customers went through, and gathered a list of only the top 10 best ping pong tables to simplify things. You can narrow your options to those you need with further factors.
The following factors are the ones that helped us a lot in finalizing the above list:
Playfield/Platform
The first factor you need to consider is the thickness of the top of the table. The reason is that thickness gives the ball a good bounce. The thickness of the table ranges from 1/2″ to 1″. The thickness should be near 3/4 inches or 19 mm for good consistent bouncing, especially if you are going for a professional table. Otherwise, half an inch or 5/8″ is good for house-based, friendly matches, learning, and practices.
Wood or Aluminium Surfaces
These two are commonly used in the manufacturing of ping pong tables. Most tables' tops are made of MDF or engineered wood which are great for indoor purposes. They don't go well with humidity, rain, or sun rays, thus compromising the quality and durability of the table. But wood-based tables offer great quality and functionality indoors.
If you are looking for an outdoor ping pong table, consider one with an aluminum top. The material is light, but it can also withstand the harshness of any weather.
Fold & Store
These features prolong the life of any ping pong table. It is advisable to store it away to be extra careful when not in use. Tables that can easily be folded and moved from one place to another with the help of wheels are a plus point in both indoor and outdoor environments. You can utilize the same space indoors for another purpose, especially in small apartments, rooms, and houses. Whereas outdoors, it will prolong the life span of your table, and you will be able to have fun matches for a long time.
One Player Mode/Tue Playback Mechanism
If you are especially looking for ping pong that can have quality time with your friends and family and a good practice time, then look for the tables that serve your purpose by offering the One Player Mode/Tue Playback Mechanism. Teaching your little ones to play ping pong tables is also good.
Locking Mechanism
The locking mechanism on the wheels will ensure stable ground without unnecessary interruptions. This mechanism will help you avoid the unforeseen accident of opening and closing the table. It will also prevent you from hand or finger injury while storing the ping pong table away or setting it up for a nice good match.
Net & Post System
A good quality-based table will have a net with a post system. Make sure the table you are considering has this feature so you can adjust the net. It makes the assembly pretty quick and ready to have a match.
Assembly
Believe it or not, this is important because people get frustrated setting up a product. So make sure that the table has simple and easy-to-follow steps to ensure quick assembly and is not too much hassle.
Conclusion
We all agree that we need physical activities and games in this modern era to create special bonds and memories with our kids, family, and friends. We also need quality time to spend on ourselves, in this case, reliving our fun memories by playing ping pong. That is why we gathered a list of the top 10 best ping pong tables available in the market that best serve your interest.
Frequently Asked Questions
What is the best brand of tennis table?
The best brand in the market is JOOLA because it has been manufacturing ping pong tables for over 60 years. They are also responsible for supplying their goods to the Olympics and other big tournaments.
What ping pong tables do professionals use?
Professionals use ping pong tables of full standard size with a top board thickness of ½ inch or 1 inch. The table in our list which fulfills the most professional requirements is the "STIGA Advantage Professional Ping Pong Table."
How do I choose a ping pong table?
You can easily choose a ping pong table according to the factors we listed above in the article. These factors will help you choose and narrow down your choice to the one single purchase that fulfills your requirements.
Is a 15mm ping pong table good?
Yes, it is in terms of practice and house based matches. If you are a professional or looking for a table to enhance your skills to a professional level, then go for a minimum of 19mm thickness.
Is Stiga better than Joola?
It depends on the features you are considering. Both companies offer fine quality ping pong tables to their customers, although STIGA has a better customer help service than JOOLA and is more responsive. But JOOLA offers more variations in the tables than STIGA.
What does 40+ mean on ping pong balls?
40+ ping pong balls mean they are bigger than the standard size and have more tolerance. Before, the size of the plastic balls was 39.6 mm, now the size is 40.2 mm.
How much is a good ping-pong table?
It depends if you look at professional ones, then those come in thousands of dollars, but if you are looking for mid-range ping pong tables with professional specs, they could cost from $100 to $500 range. In the end, it all depends on your budget range.
Is a small ping pong table worth it?
Yes, they are worth it to spend memorable time with your kids and teach them how to play and the importance of physical activity.
Are there different size ping pong tables?
Yes, ping pong tables are available in different sizes, but before finalizing a decision, ponder a little bit on whether you have enough indoor or outdoor space to have it.
Where are Joola ping pong tables made?
JOOLA has a factory in Siebeldingen where all the ping pong tables are manufactured, painted, and coated.