Over the past few years, we've seen a rise in the popularity of fighting games. Not just in terms of the player base and community but eSports coverage. Many old-school fighting game enthusiasts are already familiar with the importance of good arcade fight sticks. However, this rise in popularity has also brought about fresh new players who need guidance to buy the right one.
These games are made with the controls of fight sticks in mind. Therefore, it only goes that you play these games on fight sticks so that you, too, can pull off epic moves and string combos together to eat your opponent. Today's guide aims to assist you in that along with the list of Best Arcade Fight Sticks For fighting games.
We've handpicked these arcade fight sticks after thorough research and testing. We have added their unique features, pros, and cons so that you can easily find what you are looking for to start dominating fighting action-based games. Read on ahead to find out more.
Top 10 Best Arcade Fight Sticks For Fighting Games
1.

HORI Real Arcade Pro N Hayabusa Arcade Fight Stick for PlayStation 4, PlayStation 3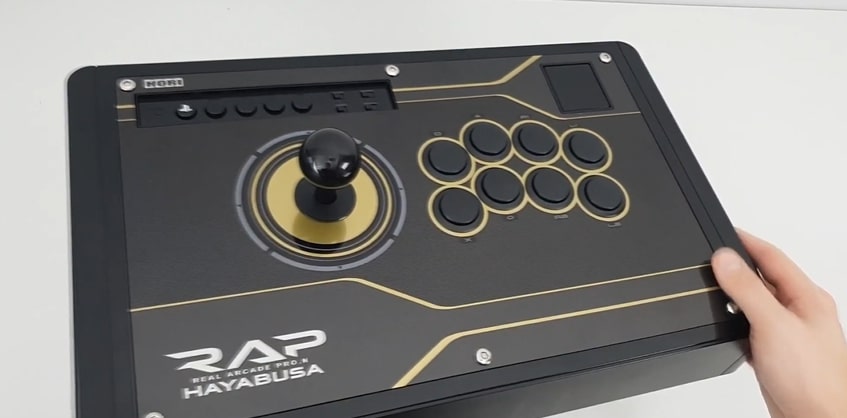 To be the very best, you must have the very best. HORI stands out for always putting out quality fight sticks in the fighting stick manufacturers and is loved by professionals as well.
The Real Arcade Pro N Hayabusa is a testament to HORI's capabilities. It is not only a PC fight stick but is also easily compatible with PS4 and PS3.
The HORI Real Arcade Pro N Hayabusa looks simply stunning, with the stock version coming in black color with gold and silver accents. There is a layer of plexiglass on top of the stock artwork that provides great room for customization, all you need to do is some unscrewing and screwing and you're done. It is a thick and firmly built fight stick with durable materials used. we loved the experience and its durability was great.
The L3, R3, PS Home, and Turbo buttons on the top panel have a tiny section of their own. You have the 4 PS4 buttons and the L1, L2, R1, and R2 buttons. This layout works quite well with both 4 button and 6-button fighting games. Similarly, you have the Start/Options button located away from the primary keys on the left side.
Other buttons are placed in the center where all the action happens; all buttons are very responsive. These buttons are all Hayabusa grades and not Sanwa, which are also very remarkable but are noisier which could be annoying. However, you can easily swap to Sanwa buttons in this fighting stick.
Highly responsive buttons

Relatively easy to add custom artwork

Ergonomic design aids in both 4 button and 6 button fighting games

The durable and solid build makes it last quite long
Hayabusa buttons can feel a little loud to some players
2.

Qanba Dragon Joystick for PlayStation 4 and PlayStation 3 and PC (Fighting Stick)
Be it the best keyboard, mouse, phone, or fight stick, there is always that one pick that goes over the top. In the arcade fight stick community, Qanba Dragon stands out for that very reason.
It is among the most premium and pricey fight sticks available and is specially designed for professionals. Qanba Dragon takes everything you could ever want from a fight stick and takes it up a notch.
It is pretty safe to say that the Qanba Dragon is one of the best looking fight sticks of peak perfection. The material used to build this fight stick is primarily high-grade aluminum with plexiglass on the surface. Complex and durable plastics are on the sides that further add to this fight stick's longevity.
As far as the buttons and joystick go, all of these are Sanwa OBSF -30s buttons with a Sanwa JLF joystick. This heavy fight stick uses its size to its advantage by providing storage space for gamers.
You have the 4 PS4 buttons and L1, L2, R1, and R2. In the top section, there are additional buttons that you can use. For starters, a slider helps the Qanba Dragon decide which cabinet arcade machine it is being used with- be it PS3, PS4, or PC. In addition to that, PS Home, Share, Options, R3, and L3 buttons are also present on top.
We had a great gaming experience due to the Sanwa buttons and joystick. it has additional LED lights for enhanced aesthetics and a dedicated section for more buttons making it a versatile fight stick.
Another very beneficial use of the Qanba Dragon is its ease of customization. This fight stick features a one-touch modding feature which helps modding easy for even very fresh beginners. Swapping out the artwork is a piece of cake with the Qanba Dragon fight stick.
Sanwa OBSF -30s buttons and Sanwa JLF joystick

One-touch modding makes things easy

Space inside for extra buttons or other things

Peak performance with the buttons registering instantly
3.

RAZER PANTHERA: Fully Mod-Capable – Sanwa Joystick and Buttons
Does it come off as a surprise that Razer's name has popped up in gaming peripherals? Razer has been putting out quality products time after time.
The Razer Panthera is more like an updated version of the Atrox than Razer's previous fight stick. We didn't encounter any previous flaws with the updated version with more mod options to use.
The Panthera makes significant improvements over the Atrox design with thicker and heavier plastic. It has a slightly tilted upwards shape which lets your hands rest easily.
The arcade fight Panthera stick, just like the Atrox, is a PlayStation fight stick. However, it is compatible with PC as well; with Panthera's driver but it does take some time to set it up with a PC. You have to download Xinput to have the Panthera recognized.
With that being said, the top panel of the Panthera is dedicated to PS controls. Buttons such as L3, R3, Home, and Options are found on the top panel. Additionally, there's the touchpad, should you want to use that. The Taito Viewlix layout of the buttons is just as you'd expect, close together for easy reach.
Razer opted for the Sanwa joystick with the Panthera; however, the buttons are a different case. This time, the razer fight stick is using mechanical switches called the Razer Akemi switches. These are just as responsive and fast as Sanwa buttons, with them being registered as soon as the circuit is completed.
However, I wouldn't say I liked one little thing about the Razer Akemi switches, and that was that they have almost no bump. While they are swift, the feel of a button just being registered without giving a slight pushback feel isn't that satisfying.
After spending the big bucks on the Panthera Razer fight stick, you'll want to be able to make it your own by adding a personal touch. The case is hinged on all corners, making it just a cakewalk to remove it and install a custom piece of artwork.
Razer Akemi switches and Sanwa joystick are very responsive

Ergonomic design improves comfort levels for the long term use

Modding and customization are made easy

Plenty of space to rest your hands
PC compatibility is a bit of a drag
4.

Qanba Obsidian Joystick for PlayStation 4 and PlayStation 3 and PC (Fighting Stick)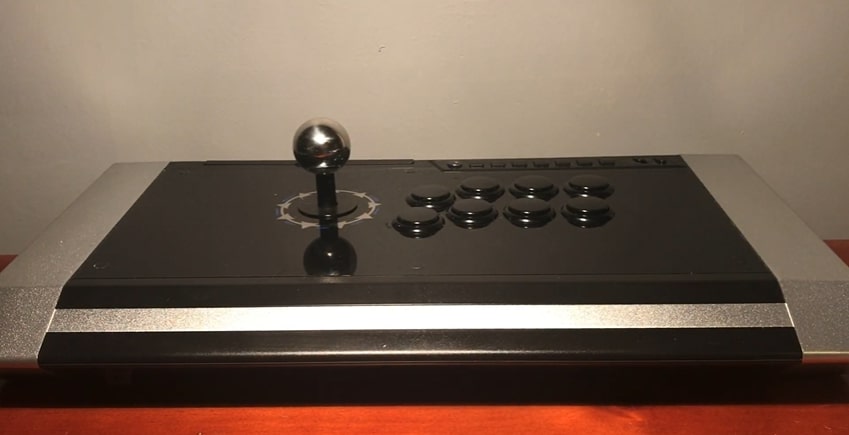 Qanba is a well-known name among the fight stick community. The Dragon has already reserved the spot as the second-best on this list.
It is targeted toward the medium-priced fight sticks that deserve well praise in the gaming community for beginners.
Like the Qanba Dragon, the Obsidian is undoubtedly a nice-looking fight stick. With LED lights on the side and a shiny top with a metallic ball on top of the joystick, the aesthetics of this fight stick are almost unparalleled.
All the primary control buttons are on the top panel, which leaves the sides alone for enhanced looks. The LED lights on the sides can be controlled with a button located on the top panel. On the side is also a little compartment and a 3.5mm audio jack. The compartment can be used to tuck away wires that you may need to carry along.
The Qanba Obsidian is comprised of Sanwa Denshi OBSF 30mm buttons with a Sanwa JLF joystick. The joystick is square-gated and highly preferred among the fighting game community.
As for the button, the layout is quite like the Qanba Dragon as it too follows the Vewlix positioning of the buttons. Apart from the main buttons, you also have the Options, Share, Turbo, and others you will find instrumental. Additionally, there is also the PS4 touchpad located in the back, like the Qanba Dragon.
The modding capabilities of the Qanba Obsidian are pretty friendly, however not as easy as we'd like. It would help if you still had a screwdriver to get things loose, and even after that, the panels require some extra force to be removed.
Sanwa Denshi buttons and joystick

Square-gated joystick

A very sleek and well-designed fight stick

LED lights on the sides which can be changed through the button
Modding is not as easy as other fight sticks
5.

HORI Fighting Edge Arcade Fighting Stick for PlayStation 4
The HORI arcade sticks have a reputation for being very well-liked in the arcade gaming community.
For a long time now, gamers have repeatedly opted for the HORI arcade sticks because they have always been reliable and trustworthy.
Its simplistic design cuts down on extra fluff and gets straight to business. And now, the HORI Fighting Edge stick has been redesigned, and it comes back with a bang. The HORI Fighting Edge lives up to its name and follows a similar minimalistic design style as the previous one.
Apart from the PS Home and Options buttons located in the far top corners, there are only the main controls. The additional buttons are located on the right side of the HORI Fighting Edge fight stick panel. The black plastic and the brushed aluminum make up an exquisite coloring scheme thus, making the HORI arcade stick look sleek.
The HORI Fighting Edge uses the Hayabusa buttons, approximately 1.4mm thinner than standard buttons. And with the reduced size, the actuation time is reduced. These buttons are reasonable; however, they're not what people prefer. Compared to Sanwa buttons, they have a somewhat loose feeling, and the pushing of the buttons is not as satisfying.
Simple and minimalistic design

Shorter Hayabusa buttons make for less actuation time

Remap buttons however you wish
Hayabusa buttons have a somewhat looser feel.

The top panel is not tightly fit to wiggle around during intense gaming sessions
6.

Mad Catz Street Fighter V Arcade FightStick TES+
Mad Catz arcade fighting stick has had a very high mantle to stand on for a long time. It has gone out of business now, and thus, there aren't any more TES+ fight sticks being made.
However, there are still units being sold, and they are always received very highly. The Mad Catz TES+ fight stick has made it to the 6th spot in this list to be a relatively affordable option and still perform well.
With the color scheme of black and gold, the design is quite pleasing to the eye. It has a smaller form factor than the other fight sticks mentioned in our list. Despite that, it does have a satisfying weight, which is good to witness.
The Mad Catz TES+ sits comfortably in your lap, and you can enjoy the game without worrying too much. As for the layout, the Mad Catz TES+ also follows the Vewlix layout of the buttons.
The 8 buttons are packed together with the Sanwa JLF-styled joystick, whereas the top panel is reserved for the extra buttons. These include the L3, R3, touchpad, and other buttons. The buttons and joystick are both Sanwa's grades, which are speedy, responsive, and can easily be swapped.
The Mad Catz fight stick has outstanding artwork in the stock version. However, gamers still like to have the option of having it swapped out and replaced with the artwork of their choosing.
Mad Catz TES+ makes that a little complicated. First, to remove the artwork, you must remove the top panel. However, by doing that, you risk nulling the warranty void. And there's also the case of the top panel being a little flimsy and hard to remove. So there is a chance that a beginner can damage the panel.
A 3-way operation for the joystick

Sanwa buttons and joystick

Low latency with the USB cable
The top panel is a little bit flimsy

Modding is kind of difficult
7.

HORI Nintendo Switch Real Arcade Pro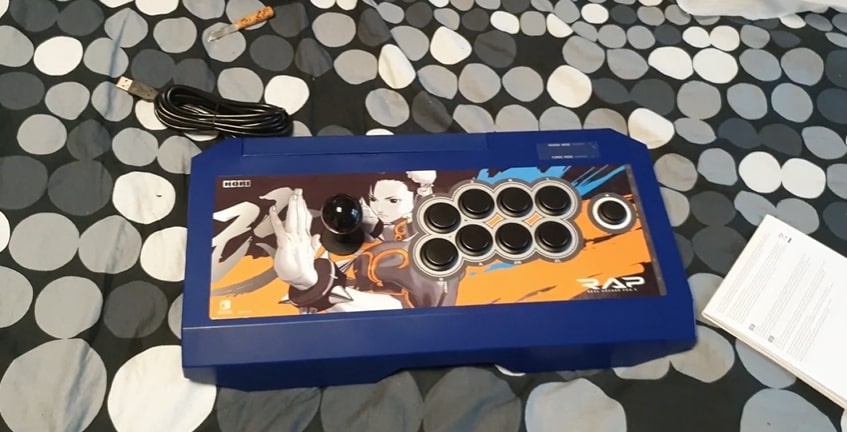 The next fight stick on our list is the HORI Nintendo Switch Real Arcade Pro. This one is a stepped-down version of the HORI Real Arcade Pro Hayabusa.
However, it still is a decent option for those interested. This Nintendo Switch arcade stick is designed primarily for Switch, as its name suggests.
There aren't many games playable by an arcade fight stick on the Nintendo Switch, but Nintendo is picking up on that. If you fit the criteria, getting this Nintendo Switch Real Arcade Pro fight stick will be an excellent option for you.
The Real Arcade Pro for Nintendo Switch is a small, miniaturized fight with a straightforward design. It has the same case as most RAP series fight sticks by HORI.
You have all the main buttons laid out front on this fight stick. Instead of just 8 buttons on the front like most PS4 fight sticks, this Nintendo Switch arcade fight stick has 9 buttons.
One problem with this fight stick is its weight. With a small-sized fight stick, control is quite important. However, due to this fight stick not having that much weight, controlling it while having it on your lap can be a bit of a drag.
The joystick and buttons are all Hayabusa which we can appreciate. It is a little wrong with the HORI Nintendo Switch Real Arcade Pro design department with a simple design, a rather creative coloring scheme, and excellent build quality.
The HORI Nintendo Switch Real Arcade Pro is a very straightforward fight stick. There isn't that much flair about this fight stick. That is partly because there are not many arcade fighting games for Nintendo Switch.
At least not yet. And as this stick has been designed for Switch, the limitations carry out here as well. Which is part of the reason why the price tag doesn't feel rightly justified?
High-quality Hayabusa buttons

It comes in different coloring schemes and artwork, which improves the looks
Rather expensive

Modding is a bit of a hassle

No 3.5mm audio jack
8.

Qanba Drone Joystick for PlayStation 4 and PlayStation 3 and PC (Fighting Stick)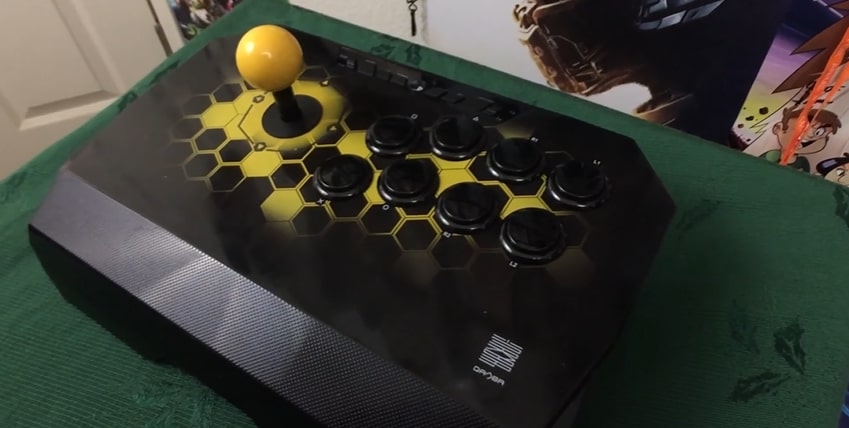 With just over 80 bucks, you get yourself the Qanba Drone fight stick. It is an entry-level fight stick that most fighting game enthusiasts start with.
By compromising on the weight and massiveness that heavier fight sticks offer, the Qanba Drone makes it up by providing decent-level buttons and joystick, and more portability.
The Qanba Drone fight stick is the best budget fight stick that you can get for the price and its overall effectiveness.
Another downer with this smaller fight stick is its lack of hefty weight. While the lightweight of the Qanba Drone certainly makes it easier to carry around, the user ends up losing that weight that secures the Drone in its place.
Apart from that, the build quality and construction are pretty solid. A little bonus with the Qanba Drone is the little compartment on its side that is useful for storing the cable. It further adds to the portability capabilities of the Qanba Drone fight stick.
The Qanba Drone fight stick consists of Sanwa Denshi buttons and a Sanwa joystick. It is a square gated joystick with just the right amount of resistance so that your controls are not too loose.
Sanwa buttons and joystick are a decent catch for an entry-level fight stick. A slider on the top panel lets you choose between PS4 or PS3 as your input but it lacks behind in terms of PC connectivity. In addition to that, there is also a tournament button that locks extra buttons so that they are not registered even if you accidentally press them.
Sanwa buttons and joystick

Quite an inexpensive price tag
PC connectivity is a drag

Lacks the weight

Modding can be a bit of an arduous task
9.

Mayflash F300 Arcade Fight Stick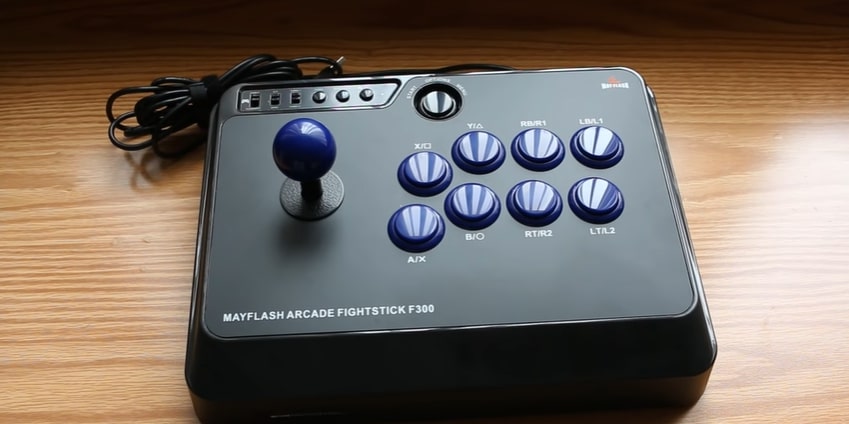 For the 9th entry in our list, we have the Mayflash F300, another entry-level fight stick for beginners.
With its universal compatibility and ease on the wallet, the Mayflash F300 gets quite many things right. It's not only a good budget pick fight stick for PS4, but PC as well.
Given the price tag and the design of the Mayflash F300, you can't say that you're surprised. Although rather bland, the design is just what you can get from this inexpensive fight stick.
It is a decent enough size that you can have it on your lap easily; however, the weight is just not there. Luckily, the build quality is quite solid, and this fight stick can last if you care for it properly.
The buttons and joystick are non-Sanwa. You can't say that you're surprised, given that the Mayflash F300 is supposed to be a beginner-level fight stick. However, the stock buttons can't make up for that lost hardware.
They feel mushy and soft instead of tactile and responsive. That ends up giving an unsatisfying feeling when pressing the button. You do get a light and easy-to-carry fight stick.
For this inexpensive fight stick, the target is to just familiarize people with the use of a fight stick without diving too deep into the details and it does get uncomfortable with long gaming hours for your hands.
A bonus of this fight stick is its universal compatibility. It can be paired with PC, PS4, PS3, Xbox, Nintendo Switch, and even Android.
Very inexpensive

Universally compatible
Stock buttons feel mushy and not as responsive

The size is quite small

Not comfortable for prolonged use
10.

HORI Fighting Stick Mini 4 for PlayStation 4 and 3
At the very least, we again have another fight stick by none other than HORI. This one is as small as they come and, along with that, boasts a very cheap price tag making it a good option for budget fight sticks. But does it live up to its name and does what it sets out to do?
The Hori Fighting Stick Mini is almost as small as a Nintendo Switch. Despite that, it was made so that both your wrists can rest on top of it. The buttons on this fight stick are just the essentials.
It follows an 8-button design, including the L1, L2, R1, and R2 buttons. The buttons and joystick are not Sanwa Denshi, but they're pretty decent for stock buttons. They still feel a little mushy and soft upon pressing a button, but that can be passed off.
Modding and customization with the HORI Fighting Stick Mini are just not possible. Upon removing the panel, you'll find that the buttons are soldered onto the PCB. Additionally, the case is so shallow that any potential modding enthusiasts will turn away.
The small size of the HORI Fighting Stick Mini can work in its favor depending on who is using it. For people with small hands, this fight stick can prove to be a valuable companion. For others, not so much.
There is a PS Home, Options, and Share button on the top panel. However, there is no touchpad or any Turbo button. Turbo buttons prevent extra buttons from being registered not to interrupt your game.
In addition to that, you'll find that the buttons on this fight stick can't be remapped. That ends up rendering the R3 and L3 buttons useless as they just can't be used.
Very portable and light

The cheap price tag makes it affordable for all
Buttons can not be remapped, so R3 and L3 can't be used.

No room for customization or modding

No Turbo mode
What to Consider While Buying Best Arcade Fight Sticks for Fighting Games in 2022
There is no better way to execute a special combo of moves and tricks other than using arcade sticks. Qanba, HORI, Mayflash, and Razer are a few great companies known in the market for fighting arcade sticks.
You will find two main countries in the manufacturing of arcade sticks, Japan and Korea. They are the main suppliers in this niche. You can find every type of arcade stick. That is why we will mention a few unique pointers you could consider before buying top fight sticks that are appealing to you the most from the list mentioned above.
Size & Weight
First, how much portability do you want in your arcade stick set? This question will tell you two main things that are size and weight. If you want to carry your arcade stick around with you, you need to consider these two factors.
Fighting arcade sticks vary in size. The portable ones have a compact size and are lighter in weight, whereas the big plate ones are a bit heavy but have enough space to rest your hands on.
Platform Compatibility
It is better to know beforehand whether the arcade stick you are considering is compatible with your console or not. If you are buying a portable arcade stick, then look for multi-platform support built-in, which will allow you to connect your arcade stick to any console without any difficulty.
Arrangement of Joystick & Buttons
It is something for raising your playing comfort level. Look for the arrangement of buttons and joystick you're most easy with. Some have similar buttons, while others have buttons on the very right side of the arcade stick. There are also two types of joystick heads, one is fully round-headed while the other has a baton style top or a teardrop shape; choose the one you are used to playing with.
Customization/Modding
For those who are more into customization. This feature is important for changing the style or upgrading the buttons and joystick according to your preference and favorite theme. You have room to upgrade arcade stick parts like the joystick, actuators, restrictor plates, boards, buttons, and so on.
Skill Level
If you are a beginner or your first time buying an arcade stick, go for the budget choices and entry-level ones. Once you get experience, raise your arcade stick's level by your skill level. Of course, the pro buddies have to pay extra bills for premium quality and spacious arcade sticks for their national and international tournaments.
Wired VS Wireless Arcade Stick
Wired arcade sticks use USB cables for attachment, giving you limited mobility space. In contrast, wireless arcade sticks are battery/charger operated or Bluetooth connected, which gives you lots of space to move around. You need to make sure your portable arcade stick has wireless connectivity for ease.
Price
Arcade stick prices range greatly from $140 to $200. The more expensive it will get if you look for more premium quality features. However, budget friendly arcade sticks offer moderate quality and functionality. We have added a wide range of varieties to our list for your convenience.
Frequently Asked Questions
What is a fight stick?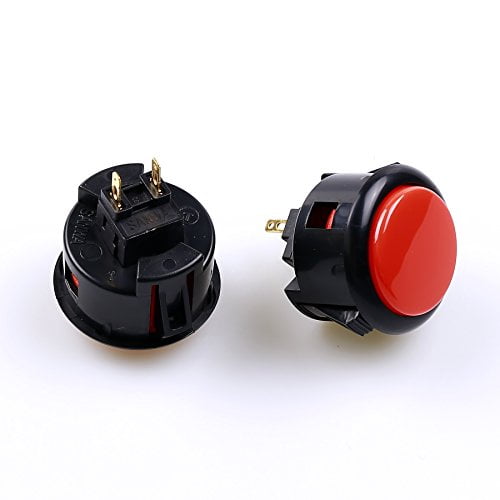 Fight sticks are special, tailor-made game controllers designed to be played for arcade fighting games. These games are made with arcade fight sticks in mind, so their moves and options are set out with them in mind. They usually come with an 8-way button design and a joystick. However, there are some models available that come without any joystick.
How do I get better with a fight stick?
It may seem very difficult for those just starting their hands-on fight sticks. However, time and practice are everyone's friends. You should keep in mind that games like Tekken and Street Fighter were made to be played on these fight sticks. So, if you choose to stick with them and practice your hand on them, you'll find yourself getting better at them in no time.
How do I hold a fight stick?
There is no "proper" way to hold and use a fight stick. It all comes down to how comfortable and easy it is to use it. Many people can't grasp a grip that another can quickly master. The most generic way of holding and using a fight stick is holding the joystick with your palm facing up as if you have a glass.
Use your other hand for the buttons and press them with the tips of your fingers so you can easily and quickly switch between buttons. However, again, this is just one way of doing it. Practice, and you may find a method that makes it significantly easier for you to work with a fight stick.
Are fight sticks better than controllers?
There are different types of games, each requires either fight stick or a controller. There is a rift between the controller, keyboard, and mouse for an FPS game. Arcade cabinet games were first introduced on machines with these arcade fight sticks. It is always ideal to play fighting games with arcade fighting sticks because these let you perform exceptionally well compared to controllers.
Where can I buy new fight sticks?
Although the purpose of the fight stick is narrow, they still are very popular in the gaming community. You can buy arcade fighting sticks from either the manufacturer's website or Amazon. If you prefer to do your shopping on your own, you can go down to a local game store and browse through their collection as well. You will not run into any issues finding these fight sticks as they are pretty readily available.
Conclusion
Having read this list of ours, you should know by now what types of fight sticks are available for your PC, PS3, PS4, and other gaming consoles. Some are very high priced and thus perform equally well. At the same time, there are also budgeted picks for those who just want to try out their hands at the best arcade fight sticks and familiarize themselves with them.
Our top recommendation would be "Real Arcade Pro N Hayabusa". Its versatility and ease of use are another bonus. it has everything a gamer looks for in an arcade fighting stick. The built quality of the stick itself, the performance of the buttons, and the customization a gamer look for.
Second, in line, we recommend the "Qanba Dragon fight stick" that genuinely stands out among others. Be it in terms of performance, quality, modding, or other factors. It comes with a very hefty price tag, but the question arises: Does the Qanba Dragon justify that price tag? With all that it offers, it sure does.

Finally, we would suggest going for "

RAZER PANTHERA: Fully Mod-Capable – Sanwa Joystick and Buttons

" because the modding is pretty simple even though you don't have to. This arcade fighter stick is compatible with all play station consoles and PC as well but with some hard work.
Regardless of what type of mindset you have for arcade fight sticks, this list will prove sufficient for you. Give it a good read and see which fight stick is the one for you. You will also be able to pinpoint your ideal arcade fighting stick with the help of our buying guide tips.