Racing games have been trendy for a long time! It is a cool heritage but it also means that there are many to choose from. It's not hard to find yourself overwhelmed with choices, so we want to help you find the best racing arcade machines.
If you're looking for a driving arcade machine, you will need a lot of help deciding what to buy. It is especially true if you don't understand how the different models stack up against each other and which best suits your needs.
If you want to spend extra cash on an arcade machine for your home or business, you must know where to start. You want something that will add value to your life, make friends jealous, and last for years. We've got all the answers you need.
With so many racing games, sometimes it can be challenging to pick one that's right for you. Fortunately, we've reviewed many racing arcade machines over the last couple of years and now have a clear-cut idea of which ones are good and which ones aren't.
We'll review 5 of the best racing arcade machines on the market and help you find your next favorite racing game.
Best Racing Arcade Machines – Top 5 Picks!
Playing racing games is an activity where you relive all the happy memories of growing up and playing games with your siblings and friends. Love for arcade machines of any kind never goes away. Time goes by, but retro games always stay in gamers' hearts. We've played most of the arcade racing games on the market, and we're ready to let you know which are the best racing arcade machines you should own. Here are our top 5 racing arcade machines.
1.

Creative Seated Racing Arcade Machine (Best Premium Choice)
The Seated Racing Arcade Cabinet Machine is an exceptional recreation of classic racing games. Its realistic, smooth steering wheel and pedals are designed to take your breath away. This is the ultimate arcade machine if you ever wish to have your arcade machine.
It will bring back your childhood memories of when you used to play on an arcade machine all day long.
This Arcade Machine is a bit different from other racing arcades. It has a chair where you sit down and steer with your legs. You can get the riding feeling similar to actual driving when you sit in front of it in the driver's seat—no need to stand up or lean on something. You will get a comfortable driving seat, and believe us. It's more comfortable than an actual car seat.
This Racing Arcade Machine comes pre-installed with 129 classic racing games, including all arcade games popular in the '80s and '90s. The built-in 32-inch HD LCD screen adds another layer of realism to the game experience. In addition, you can install your games too.
You can enjoy playing classics such as Super Off-Road, Pole Position, Gran Trak 10, Turbo OutRun, F1 Racing Championship, etc. You don't require any complex setup like setting ROMs or downloading anything. It's a plug and plays arcade machine that turns on your machine, selects your game from a comprehensive list of 129 games, starts playing it, and has fun!
You can use it as a single-player machine or link two machines together to make it a double-player machine and go head-to-head with your friends or family members.
The sound system produces high-quality realistic sounds to give you a super cool experience, like in a racing game. This machine allows you to free play all your favorite games. You can use the coin play option for commercial purposes.
This Racing Arcade Machine is an entertaining and unique arcade machine that will provide you & your friends with endless hours of fun. It's the perfect solution for Game Rooms, Office Break Rooms, Lounges, Bars & Restaurants, Rec Room, or any other location where you want to have a fun night with friends and family or provide your customers with an excellent game-playing experience.
Moreover, this arcade machine is a perfect gift for kids and adults nostalgic about the '80s and '90s classic games.
Pre-installed 129 Classic Games

Option to link two machines

Very durable body

Comfortable Seat

Realistic experience with good quality steering wheel
2.

Arcade1Up Outrun (Best in Budget)
The Arcade1Up Outrun Racing Arcade Machine is the ultimate car game for your home. This high-quality, fully functional video game machine will bring hours of fun and excitement into your life.
This kids' racing arcade machine has an authentic reproduction of the famous Outrun game, an acceleration pedal, and a braking system for a more realistic experience.
The classic design on the body mimics a vintage race car and makes this one of the most sought-after machines in the Arcade1Up collection. In addition, artwork from the original game Outrun has been applied to add to its unique look. 
The Arcade1Up Outrun racing machine is a fun and challenging way to enjoy the nostalgia of racing games from the '80s. This excellent arcade game includes popular games like the original Power Drift and Turbo Outrun.
The Arcade machine will bring you back to your childhood. The game is straightforward to play. Push the accelerator pedal to increase speed and the steering wheel to change direction. The 17-inch colorful screen allows for immense visual appeal, while the durable construction ensures many years of enjoyable gameplay. It is an excellent gift for any child who loves driving games or racing!
Arcade1Up is a line of high-quality retro arcade cabinets with a stylish design and a very affordable price. The Arcade1Up Outrun Racing Arcade Cabinet Machine comes with Dual speakers with good sound quality and a colorful artistic design. It comes with a left and right indicator button, making you feel like driving a real car. In addition, it also includes many other buttons, like the horn button and push the start button, to make it more realistic.
Many easy-to-use buttons

Affordable Price

Beautiful design

Very Lightweight
Very few games to play

No coin operation
3.

NLR-S016 Arcade Machine (Best Modern Choice)
The NLR-S016 racing machine is a high-end, realistic driving simulator that will thrill you with its realism and attention to detail. Now you can get the ultimate driving experience in your own home.
The Next Level Racing Arcade Racing Simulator is constructed from solid steel and aluminum to ensure it will last for years to come. It comes with pedal sets, including accelerator, brake, and clutch pedals. The steering wheel is attached to the wheelbase with a smooth, quiet operation belt drive system.
This cockpit is suitable for children and adults and can be used by both. It has been designed to give the most realistic experience possible and uses Logitech gear shifters and pedals.
The racing seat is very comfortable and can be set to the correct height for the user. In addition, the seat comes with a slider option that allows it to be moved closer to the steering wheel or further away, depending on your preferences.
One of our team members has this in his home for kids, and he shared his experience after using this. That's why we are also recommending this to you.
Minimalistic design with key elements to enjoying an actual arcade driving experience – metal pedals, seat slider, and gear shift lever included as standard. In addition, the pedal plate can be adjusted to suit both left and right-foot drivers. It supports Logitech G27, Thrustmaster T500 RS, and Fanatec shifters.
Monitor mount allows monitor adjustment up / down and side to side, giving you that perfect view no matter what monitor you are using and allowing tilt function on monitors. It is the most realistic arcade racing driving experience at this price tag. So, it can be considered the best racing arcade machine in modern design.
This machine is perfect for children, teenagers, and adults looking for their first-ever arcade racing simulator. It is designed with care to offer an experience as you've seen in the movies!
The NLR-S016 is a simulator designed for realism, durability, and comfort, featuring adjustable pedals with steel plates and an ultra-strong frame to support up to 220kg (500 lbs); this is a professional-level product at an affordable price.
Durable body and frame

Every feature is adjustable to fit everyone's need

The steering wheel and pedals are placed at the perfect angle to give a realistic feel

Supports many racing game systems like Logitech
The seat material is a lower grade

It does not have a monitor
4.

Creative Arcades B08L9PZ68Q (Best Standup Arcade Machine)
Creative Arcades standup version racing arcade machine is a fully-featured arcade gaming system that delivers the classic racing gameplay you remember! This finely crafted high-tech machine includes an extensive selection of games and an easy-to-use control panel.
The sleek bodywork and racing stickers on this machine will appeal just as much to boys and girls of all ages and adults who want a fun challenge in an arcade-like setting. You can choose two modes of operation: free play or coin play.
The racing wheel features increased steering precision and is designed to offer unparalleled comfort. So if you are looking for one of the best racing arcade machines for your home or office, this is the one!
This arcade machine has a 27-inch full HD monitor with thick tempered glass protection. You will have the luxury of 129 pre-loaded classic arcade games, allowing you to download an additional game for free. The pre-installed games cover various racing genres, including car racing, motorcycle racing, boat racing, bike racing, etc.
It features a very high-quality steering wheel, giving a super realistic gaming experience. And with steering wheel sensitivity settings, your experience will be the most practical it could ever be. 
A more realistic experience comes with a foot brake pedal and accelerator pedal. The accelerator pedal is connected to a motor that controls the speed of your car, and the braking pedal makes your car slow down or apply brakes.
With the best steering wheel, responsive pedals, and a giant HD screen, you can have a blast with this Arcade Machine. The creative Arcades standup arcade machine is a classic fun gaming machine that is great for home and commercial use.
You won't believe how fun and functional this arcade machine is until you have one in your home. It simulates the actual real car racing experience. It is an excellent value for money, a fantastic gift for your friends/family, or just for yourself! Everyone will be crazy about it, especially kids!
This arcade machine provides a unique and aesthetic design that will fit any location or space, and its durable construction will withstand daily use. It's perfect for homes, bars, arcades, restaurants, hotels, games rooms, etc. This standup racing arcade machine is easy to set up, use, and enjoy by children and adults. There are 3 years of warranty on electronics and 2 years of warranty for mechanical parts.
Two modes to play

Comfortable steering wheel with good precision

129 pre-installed games

Very durable body

Option to install more games
Expensive

Foot pedals are not well placed
5.

OpenWheeler GEN3 Arcade Machine (Best for Pro Gamers)
This is the ultimate one for you if you want a racing simulator that can support your racing wheels and pedals. The frame is made of steel and powder-coated for durability. It features a comfortable and adjustable seat that allows you to sit down like a real car.
It comes with mounting hardware and tools required for assembly. You will also have fun playing games on this machine, such as Forza Motorsport 7, Forza Horizon 4, Dirt Rally 2, Project Cars 2, and many more!
OpenWheeler GEN3 Arcade Machine is one of the most affordable premium arcade machines globally, and it fits nicely in game rooms, living rooms, family rooms, etc. The seat is super easy to assemble, has solid build quality, and is large enough for a full-size adult.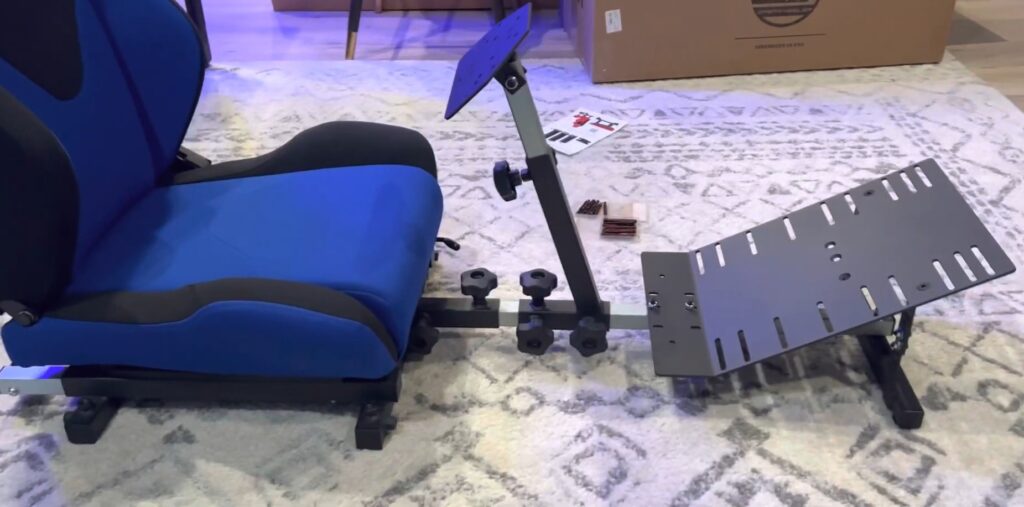 You can slide the seat like in a real car too. The pedals are super responsive and feel solid even after hours of gameplay. It accepts all steering wheels and pedals such as Logitech G923, G29, G920, Thrustmaster T300RS/TX 458 Edition/TX Leather Edition/T150/T150 PRO/T80 Racing Wheel, Fanatec Clubsport V1 & V2, Fanatec CSR / CSR Elite / CSL Elite.
The OpenWheeler GEN3 Arcade Machine is a high-performance gaming platform for simulation racing enthusiasts. Assembled in a matter of minutes – and looks and feels like the real thing. OpenWheeler GEN3 Arcade Machine is a great gift idea for video game fans who own an Xbox One or PS4; they can connect this product straight to their console. An excellent product for all ages!
Very comfortable seat

It supports many wheels and pedals

Great build quality

Many features at an excellent price

It supports many latest games
The shifter bracket moves a little bit when you are shifting hard

It sits a little low on the ground compared to other models
Best Racing Arcade Machines – Buying Guide
If you plan to buy a racing arcade machine, you must think about what features to look for in the arcade machines. It will help if you are looking for some features when buying an arcade machine to get good.
Don't buy just any racing arcade machine. First, research and invest in a high-quality model that will last for years. To help you, we've put together our ultimate buying guide, featuring nine tips for picking a suitable model.
Here are the features you must look for when buying an arcade machine.
Games it supports
The first thing to look for in an arcade machine is its wide selection of games. You'll want to play old favorites like Pac-Man, Space Invaders, and Donkey Kong, but you'll also want to know about new games you've never played.
Look for an Arcade machine that lets you install new games to avoid boredom by playing the same games.
Build Quality
You want to find an arcade machine with a sturdy build quality that lasts long. It should also be easy to fix if something goes wrong with it.
Free Play or Coin Play Options
It would help if you only chose those machines with a coin-play option for commercial purposes.
Sound System
The sound system is one of the essential features to consider when buying an arcade machine. Always ensure the sound system is of good quality, and don't be afraid to pay a little extra.
Frequently Asked Questions
How much does an arcade machine cost?
The cost of an arcade machine depends on what you're looking for and where you're planning to buy it.
If you're looking for a top-of-the-line machine with all the bells and whistles, then you're looking at a price tag of about $4,000.
Are arcades profitable?
Arcades are very profitable and can be suitable investments if the right machines are chosen.
Many arcade machines are beneficial, but there are also a lot of cheap arcade machines that are not.
How do I add games to my arcade machine?
You need to install the game you want to add to the arcade machine onto a raspberry pi. The raspberry pi is the computer that runs the arcade machine.
Why are arcade games so expensive?
One reason why arcade games are so expensive is that they're so challenging to produce.
Even if you're not making your own game, you're going to need to pay a developer to create the game. The second reason is that they're rare.
Conclusion
Racing arcade machines are fun for everyone, and there are many great machines to choose from; with the correct information, you can buy a high quality arcade machine that will last you years without breaking the bank. When it comes down to buying an arcade machine, you want a high-quality machine that will offer a great experience for years.
Racing games have long been popular among gamers, and a wide range of racing arcade games are on the market. From racing around a track to flying a plane to driving a monster truck, arcade racers offer the chance for players to experience riding vehicles in some of the most exciting ways possible.
There's nothing more exciting than driving your favorite racing car. Even if you haven't driven a car before, there is something about these high-speed machines that fire up your adrenaline and allow you to feel the thrill of driving. This feeling can be replicated by playing on a racing arcade machine featuring interactive controls, realistic audio, and visuals.
We hope our list of best racing arcade machines has helped you choose your favorite machine.