Everyone will tell you that their introduction to the gaming community was made through arcades. Back when arcades were trending, and everyone would spend their weekends with their friends at their local arcades, life was much less complicated. But nowadays, there are mini arcade games that are portable and easy to carry, even in your pocket.
The best mini arcade cabinets available there were the best ways to spend hours at a time discovering your love for gaming. Tokens and coins would be inserted into the machine, and players would have fun trying to make their way to the list of highest scores. In return, most machines also give tickets which can be used in exchange for prizes.
While these arcade cabinets were at the center of the gaming world, trips to the arcade have drastically decreased with the advancement in technology. However, gamers are now turning towards buying mini arcade cabinets because they crave the antiquity and nostalgia associated with their favorite games.
A portable arcade is a great way to relive your glory days of going out with your friends and spending hours earning tickets, and competing with your loved ones. These tiny arcade machines are straightforward to carry anywhere. So we will write a complete tiny arcade machine review after testing quite a handful to decide which are the best ones.
Top 10 Best Mini Arcade Game Cabinet Reviews 2023
Below is a mini arcade cabinet review unlike any other, and each study provides relevant details and the pros and cons of each arcade machine.
So after reading the whole tiny arcade machine review, you can decide which mini arcade machine you should have. Anyway, I wish I could get them all.
1.

Basic Fun Arcade Classics – PacMan Color LCD Retro Mini Arcade Game
Everyone knows and loves Pac-Man. It is an iconic game featuring a Pac-Man making his way through a maze of dots and avoiding ghosts along the way.
Pac-Man is such a memorable game, and everyone has played it at least once in their lives. Everyone has wanted to own this arcade classics mini-game ever since mini arcade gaming cabinets were first introduced.
This micro arcade machine is a genuinely miniature arcade game, which is perfect as a stocking stuffer at Christmas time or for an upcoming Pac-Man lover's birthday party. The Pac-Man retro mini arcade game uses an authentic and retro LCD with 80's graphics and sounds.
This arcade retro machine allows for an immersive and nostalgic experience when playing the game. The joystick mechanism allows for easy navigation through the maze, and the three buttons on the arcade cabinet will enable you to turn the game on and off, pause it and change the mode.
Since its first introduction into arcades worldwide, this game has been a fan favorite ever since its first introduction. Three AA batteries have been included so that you can play it instantly! The red joystick has a central location, making gameplay more accessible and convenient.
Thus, a miniature version of the arcade classic would be nothing but a success. This game is sure to be a hit in the price range available and with authentic graphics and sound.
Pros
Nostalgic game

Fits in pocket

Quite affordable

Will be delivered to your house

Great as a stocking stuffer or a birthday present

It can be kept as a collectible

Allows for an immersive gaming experience with a retro LCD and 80s graphics and sound

It can be a great source of entertainment for friends and family alike
Cons
The arcade is tiny in size

It does not allow for multiple players to play at the same time

It may be easy for little children to lose (which is why it is best to follow the eight years and older age range)

Only has a single game
2.

Tiny Arcade Space Invaders – Best Miniature Arcade Game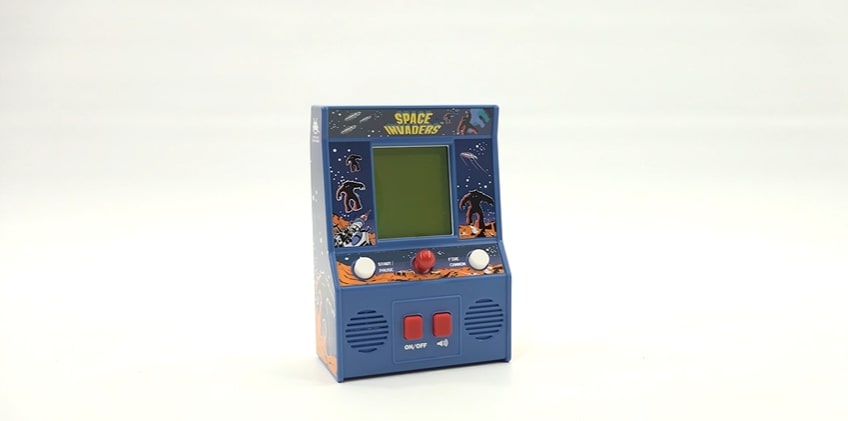 Space Invaders is another viral and nostalgic game that is famous for its basic but enticing gameplay. Many people remember the galactic war that provided them with hours of entertainment.
The fixed shooter game allowed the player to shoot incoming alien invasions, and as you progressed through the game, each level became gradually tricky.
Tiny Arcade Space Invaders is the perfect gift to introduce your child to the world of arcade classics. This mini player retro arcade is a miniature working replica of the original Space Invaders arcade cabinet we all grew up with. It can fit in your pocket, making it easy for you to take it anywhere and at any time.
This miniature arcade game features a mini arcade controller in a bright red joystick. It also features two other buttons that can pause the game and turn it on or off. It is also quite affordable and cheap, which you can gift to your kids or relatives' kids.
The game includes a battery, so you can instantly play it once you get it. It comes with all of the original, high-definition graphics and sounds from the original game. There is also a light-up header that makes the game even more entertaining.
Pros
It can fit in a pocket

Quite affordable

Convenient to carry

Will be delivered to your house upon ordering

A great break from phones and tablets

Great for gifting

This is a fantastic way for you to introduce your child to your favorite arcade classics.

Battery included

High resolution

The light-up header is included

Includes original graphics and sounds, providing you with an authentic experience
Cons
Only for ages eight and older

It may be too small for some to play

The screen size is relatively small

Only has a single game

Choking hazard for children younger than the age of 8
3.

My Arcade Micro Player Mini Arcade Machine: Pac-Man Video Game, Fully Playable
It is another Pacman shooter game that is the best selling and available as a Mini arcade game. It also features a Pac-Man making his way through a maze of dots. 
I love this to have for one of my kids, I gave it to her, and she loved to play with it. Even I use it myself because it is a very cute little game with exciting features.
It is a mini tabletop arcade machine that your kids will love. This backlit arcade is the perfect accompaniment for any car ride as it is small and can easily attach to a keychain or in your pocket.
This mini classic arcade machine is very small, which means it has been designed as a convenient source of entertainment for you, your family, and your friends.
The My Arcade Micro Player arcade game features a joystick controller and two buttons. It includes high-resolution colored graphics with the original sounds of the game. The actual gameplay has been restored and made to fit the small 1.5-inch screen of the miniature arcade machine.
No coins or tokens are required, and one battery has been included so that the game can be played once opened. The simple-to-understand gameplay can be helpful for anyone wanting to get their child into gaming.
Pros
Lightweight

Easy to carry

Easy to understand gameplay

Quite affordable

A way to take a break from phone and tablet screens

Helpful in introducing children to gaming

Entertaining

Can be carried for travel

It comes with a battery

Very affordable at the current price

It can be delivered to your house
Cons
Only for a single player

It is not suitable for children younger than eight years of age

It may be too small for some gamers

Only has one game

The graphics and sounds may be too retro compared to the latest graphics of the 21st century.
4.

My Arcade Micro Player Mini Arcade Machine: Ms. Pac-Man Video Game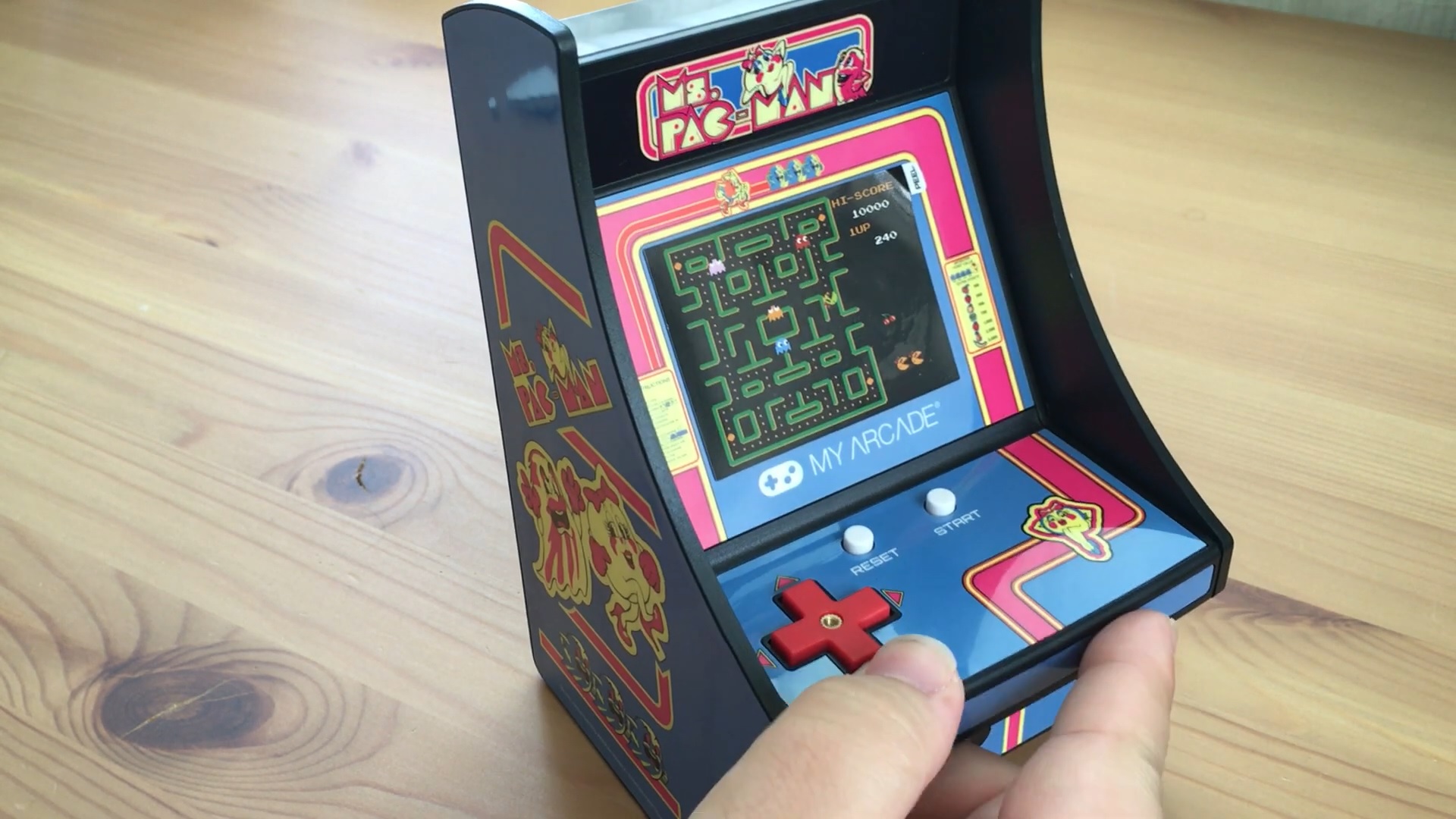 Ms. Pac-Man was introduced after the original Pac-Man, and while the gameplay is the same, this version of the timeless classic features a female lead in this zany sequel.
The game was a way for Pac-Man to target young girls while maintaining the same aims as the original arcade game.
Ms. Pac-Man includes the original maze along with the four ghosts. The competition aims to eat all of the dots while avoiding the ghosts.
This basic fun mini arcade is slightly larger than the previous mini arcades mentioned on this list. It is one of the most popular retro tabletop arcade games. The 2.75-inch display is slightly bigger than an average miniature arcade cabinet, facilitating a better experience.
Interestingly, the mini Ms. Pac-Man arcade cabinet features a bright red removable joystick atop a directional controlling pad. So, you have a choice between two different controllers. Ms. Pac-Man also features the original graphics and authentic sound presented on a bigger-than-average screen and machine.
This game requires 4 AA batteries, but it does not need any coins or tokens to work in the way original arcade games require. The best part is that it includes a headphone jack, external speakers, and volume controls for the optimal sound experience. This machine can also be powered using a micro USB.
It has features that the previously mentioned machines lack. The dual powering mechanism coupled with the different options for controlling the sound adds to the attraction of this product.
Pros
Better gaming experience as the screen is more extensive than the average mini arcade cabinet.

It can be powered with both a micro USB or 4 AA batteries

Quite affordable

Includes volume control and a headphone jack

It consists of a removable joystick and a directional pad

It has two other buttons

Easy to carry and travel with

Entertaining

A collectible

It comes with original graphics and sound
Cons
It does not come with batteries or a micro USB

No age limit has been provided

Only has a single game

It can be a hazard for younger children
5.

My Arcade Retro Machine Playable Mini Arcade
If you are looking for entertainment for yourself or your loved one, this little arcade machine is your best option.
It has 200 different games already loaded, so you can select from a wide variety of games to play, including puzzles, racing, sports, fighting, and many more! 
This tiny retro machine is impressive, considering how many games it contains. The screen is also bigger than average at 2.5 inches, providing an enhanced miniature gaming experience.
Three AA batteries are required to power this mini arcade machine with multiple games 200. It comes with a volume controller and external speakers. The size of this machine makes it an ideal pocket-sized source of entertainment. The dynamic exterior design is also unique from other machines on this list.
The graphics are similar to those of retro arcade machines, but the games are wide. You can find everything from puzzle games to racing and strategy games on this machine. It features high-resolution graphics and sounds with a volume controller included. The joystick controller is smooth and easy to use as well.
Pros
Contains 200 games

Many different types of games

Can provide hours of entertainment

Convenient to travel with

Can be delivered easily

Free return if you are not satisfied with the product

Worth the value

Includes a joystick

Includes volume control

A way to take a break from phones and tablets

Great for gifting
Cons
It does not come with the AA batteries

It may be a choking hazard for younger children and difficult for people with more extensive hands and fingers to control
6.

NEOGEO Mini International – Best Mini Tabletop Arcades
The NEOGEO Mini International is an arcade retro machine with a selective range of 40 games, including Fatal Fury & the King of Fighters.
It includes some of the most popular games, allowing you to have a fun time playing each game on the roster. This mini arcade does not have a stand like the other machines mentioned on this list. 
The NEOGEO Mini International retro arcade machine has a somewhat different design than the other mini machines on this list. It does not have a stand, so it is not as tall as the other machines on this list.
The 3.5-inch screen is much larger than other arcade cabinets, so the gaming experience is bettered. This arcade cabinet has been designed with retro graphics and original sounds from all of the games that have been featured.
It is powered by USB. This smallest arcade machine also has a joystick controller, stereo speakers, and an earphone jack. You can even use the save/load function to continue a game you were previously playing.
The HDMI port allows you to connect with another player externally. The tiny arcade machine price is a great price to pay, considering how many games you will be getting. The machine itself is a brilliant way to stay entertained, especially during long road trips or periods when you want a break from your phone, laptop, or tablet screen.
Pros
Capacity for multiple players (only two).

A variety of games are available on this single arcade machine.

Different options for sound, including a stereo speaker and headphone jack.

USB powered

Portable

It can connect to the television.

It has an instant save/load function
Cons
It may be a choking hazard for younger children

It does not come with an HDMI cable and the required lithium battery.

May be expensive
7.

My Arcade Retro Arcade Machine X Playable Mini Arcade
It is another arcade classic mini arcade cabinet that includes various games for you to choose from! This machine has around 300 old-school classics for you to choose from, including adventure games, puzzles, strategy games, sports, and many more.
Enjoy this piece of entertainment with your loved ones, and allow everyone to pick their favorite games from the vast options available. Different features will help enhance your gaming experience!
It is one of the miniature arcade games with the screen elevated. The bright red joystick controller is typical of this type of product. It makes it handheld and portable, making it easy to carry on the go.
This machine is powered by three AA batteries (which don't include). The 2.5-inch colored screen may seem small to most people, but it is by the dimensions of the entire machine.
The fully colored screen and authentic, retro sounds add to your gaming experience. The illuminated buttons make a fun experience, and the joystick controller is easy to use. This machine also includes a volume control for the speaker.
At an affordable rate, this cabinet has some of the best miniature arcade games on the market and will exceed its monetary value. The best part is that each game is different, so you have a variety to choose from.
The unique qualities of this arcade machine include the illuminated keys and volume control, along with a variety of games. My Arcade Retro Arcade Machine is a mini arcade cabinet that you will not want to miss out on.
Pros
A variety of games are available.

Illuminated buttons will enhance the gaming experience

Built-in speaker system

Volume control

Compact size

Quite affordable

High resolution, full-color games

Great value for your money, considering the number of games you will be getting.
Cons
It does not include the AA batteries

Smaller screen size and joystick controller

It may be a choking hazard for younger children

The manufacturer has provided no recommended age.
8.

Golden Security Mini Arcade Game Machine
The Golden Security Mini Arcade Cabinet contains 156 arcade games. The arcade classics mini list includes Street Fighter 2, Double Dragon, and Punisher.
There are also six buttons and a joystick controller for ease of control when playing. It is the perfect miniature gift for any game lover, and it is incredibly best for children who need to improve their eye-hand coordination and critical thinking skills.
Like other mini tabletop arcade games, this machine has a 2.8″ screen that works ideally in dimmer environments, where the screen's colors would pop for a clearer image.
The screen has also been designed with an eye-protected screen, which means that the player's eyes will not be affected. The exterior of the arcade machine has been decorated with a fighter in a dynamic pose.
This arcade machine features a rechargeable battery charged using a USB wire (included with the machine). You can also use three AA batteries. It also features a joystick controller for directional control and six other buttons to perform different functions.
There is also a headphone jack along with the built-in speaker that can also be used as an audio/video hole so that you can connect the machine to the television.
The rechargeable battery, eye-protected screen, and ability to connect to your television are a few of the features of this machine that are unlike those found in average miniature arcade machines.
Pros
Portable

It has a joystick controller and six buttons that perform functions

Rechargeable battery

Affordable

Eye-protected screen

Built-in speaker

Headphone jack

Includes volume control

Includes a headlight

A simulation coin slot adds to the design of the machine

Includes 156 games

Free return
Cons
A choking hazard for younger children

It needs to be used in a dimmer environment for more explicit images

It may be confusing for children to use because of the number of buttons
9.

Hasbro Gaming Stranger Things Palace Arcade – Retro Arcade Machine
Go back to the '80s with this tiny retro arcade machine! The Hasbro Gaming Stranger Things Palace Arcade includes arcade classics and basic fun games, including Pac-Man, Dig Dub, Galaga, Galaxian, and more!
This arcade machine is a brilliant piece of entertainment for fans of the Stranger Things series. It contains 20 games from the '80s. Some games include iconic classics like Pac-Man, Galaga, and Galaxian.
It makes it slightly larger than other mini arcade machines. The machine's exterior is decorated with the main characters of the hit Netflix show Stranger Things and the Namco gaming company characters.
The bright red joystick controller is all needed to play the games. There are two other buttons on the machine that perform different functions. 3 AA batteries power it up.
This game arcade machine is made for the current generation and teenagers, so it is a great way to get them off of their cell phones and enjoy some time in productive activity that will help improve their critical thinking skills and hand-eye coordination.
Pros
Great for stranger things fans

Updated design

Joystick controller accompanied by two other buttons

A variety of 20 games

Affordable

It has a speaker system

It comes with three AA batteries
Cons
For children ages 14 and older

Only single player

It does not include extra features, like headlights, television compatibility, or a headphone jack.
10.

Tiny Arcade Pole Position – Mini Arcade Cabinet
The Tiny Arcade Pole Position has one of the most popular racing games. This mini arcade cabinet is high resolution, and its original sound replication makes it one of the most sought-after miniature arcades on the market.
The competitive racing game has been a fan favorite since the beginning. Most people remember sitting on the big chair at the arcade with the steering wheel at their disposal, competing in a race against many other drivers.
It has a creative racer-themed design on the exterior, with some of the game's main characters on the side and cars in a race. The machine has a steering wheel controller instead of a joystick. The screen is only 1.5″ & the best smallest machine for your kids. It has been designed for children over the age of 8 years.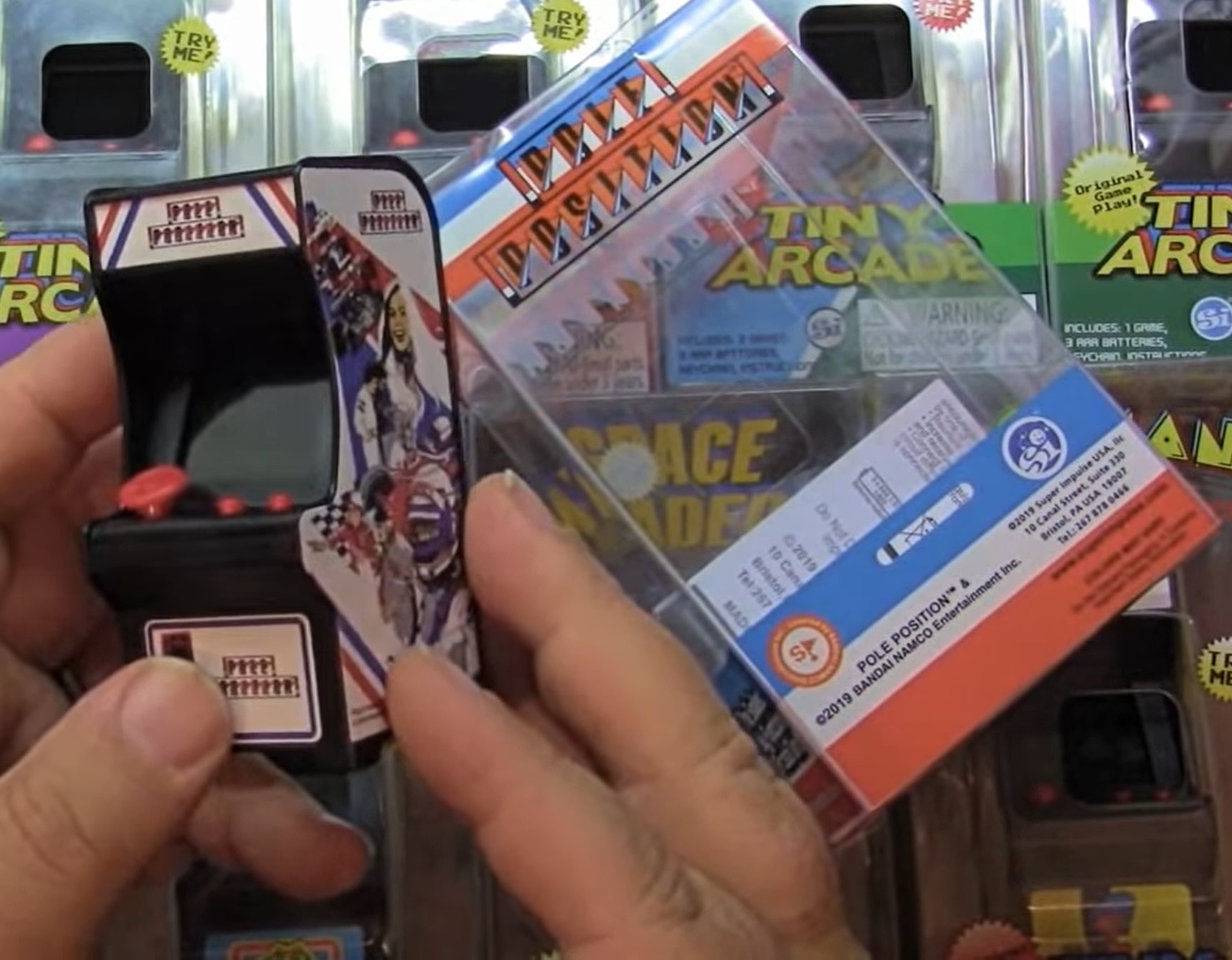 It includes three AA batteries with the machine, so you can instantaneously play upon opening the machine's packaging. Two buttons have their functions, and the screen has a backlight to facilitate the player.
If you need speed, this miniature arcade cabinet is the one for you! It is available at a reasonable & cheap price. However, the small size of this cabinet, coupled with the fact that there is only one game on the machine, may make it seem like it is not worth the price.
Pros
Affordable

Iconic racing game

Portable

Different controller than the typical joystick

Great way to take a break from phones, tablets, and laptops

Backlit screen

Includes two buttons that have other functions

Includes three AA batteries

High resolution and original sound
Cons
Only a single game

No multiplayer mode

No additional features, like a headphone jack, USB power, etc.

Only for children eight years and older
Best Mini Arcade Cabinets – Buying Tips
It was fantastic news for die-hard fans like us about getting our hands on classic retro games such as mini arcade games at affordable prices. There are still a few pointers you should consider with all the excitement before jumping in and just buying.
These pointers will help you choose the right features you want in your little arcade games, which doubles the fun and is worth carrying around with you.
Keychains vs. Handheld Mini Arcade Games
There are two types of mini arcade games, keychains, and handheld. The price range of both The difference between them is the overall size of the mini arcade games. Keychain ones are smaller than handheld ones, which makes them highly portable.
Although smaller, keychains mini arcade games also have smaller playing screens and limited controls. At the same time, handheld mini arcade games are bigger than keychain ones and have normal screens with a reasonable number of controls, including joysticks.
Number of Games
Mini tabletop arcade games don't have as many as full-sized arcade cabinet games. Classic mini arcade games come with 1 to 2 games or just one, like Pac-Man.
However, there are some models in the market which are offering hundreds of games in one. If you are getting a mini arcade game for your kid, then getting one with many games would be smart.
Types of Games
Knowing about which games a mini arcade game is offering is essential. Because some of you guys might be considering buying these in the first place to play the old classics retro-type games, knowing beforehand will save you from utter disappointment afterward.
We find that mini arcade games equipped with classic retro games don't have several games. At the same time, those mini arcade games with hundreds of games don't offer classic retro ones.
Battery Life & Type
Both types of mini arcade games are battery-powered. Some even come with a rechargeable battery. Due to this feature, they are easy to carry around with you anywhere and anytime.
Look for the models which offer good battery life and are easily found in the market. So you don't have to spend extra on poor quality batteries. Also, mini arcade games don't come with batteries. You have to buy them separately.
Size of the Screen
Display screen size varies from model to model. As mentioned, keychain mini arcade games have smaller screens, not more than 1 1/2″, whereas handheld screens could be from 2.5″ to 5″. The bigger the screen will, the bigger the price tag will be. It all depends on your comfort level of playing.
Price
The price of mini arcade games depends on two core features the number of games and the screen size. The higher the number of these features, the higher the price. Even though mini arcade games are affordable compared to other arcade games, you can get a good piece for under $100.
Other Features, Volume Settings & Graphic Quality
Having volume settings in your mini arcade games will be a bonus. So you can enjoy the game fully in your offices, public areas, or places where you need to be quiet.
Having a good picture quality will surely enhance your playtime. Small screen mini arcade games have decent quality pictures. You can check this feature by going through other customer reviews.
We highly recommend reading other customer reviews because you will find what exactly is true and whatnot. Plus, sometimes, you find great hacks and tips for your purchase.
Frequently Asked Questions
Before buying a mini arcade cabinet, you may have a few questions. The answers to the most frequently asked questions about tiny arcade games are given below.
What is a mini arcade cabinet?
The arcade machine you usually played in the '90s, so the mini arcade cabinet is the tiny version.
How much does a Mini Arcade Cabinet Machine Cost?
A mini arcade cabinet may seem like it would be expensive; however, this is not the case. Portable arcade games are affordable, and many gaming fans have taken advantage of their prices by buying a portable arcade machine to keep at home.
A mini game machine can cost anywhere from $20 to $60, which is quite affordable compared to a full-sized arcade cabinet. Full-sized arcade cabinets can cost between $500 and $5000, but these machines yield much more than their price during the prime of arcades.
Any investment can be made, especially for those who want a portable arcade game for their business. These are especially great to include in restaurants, cafes, and bars because customers and visitors can have a great time reliving their childhood.
What is the Best Arcade Cabinet?
Are you looking for the best mini arcade machine to buy for yourself? Some of the best portable arcade games include the classics, like Pac-Man, Galaga, Donkey Kong, Space Invaders, and Street Fighter II.
The classic arcade games have the most nostalgia, so most buyers like buying them. Thus, buying one of your favorite games in a portable arcade cabinet will remind you of the hours you would spend in the arcade with your friends and family.
Is Home Retro Arcade Legit?
Home retro arcade games are entirely legitimate. The term 'retro' may be a reason for many potential buyers to avoid buying a mini arcade game. However, the term is purely used to describe the antiquity of the game itself, not the machine you play on.
A retro mini arcade machine can give you one hour of entertainment, especially with having to switch from constantly using your touch screen or PlayStation controllers to a much more retro gaming style.
Many people buy a retro arcade mini-game and keep it at home to enjoy with friends and family. Others may purchase small arcade games as an addition to their small business (like a café or bar, where visitors frequent).
How big is a Full-Size Arcade Cabinet?
Most gamers remember the big, shiny arcade machines they used to play on as children. Believe it or not, a full-size arcade cabinet is usually around 6 feet and 2 inches high, 2 feet deep, and 2 feet wide. So, they may not seem as significant for a fully grown adult.
Full-sized arcade cabinets are tall and heavy, so they are more expensive than mini arcade cabinets. They can weigh at least 300 pounds, so they may be challenging to place in a house since they take up much room.
How much is a Mini Pac-Man Arcade Machine?
A Pac-Man arcade machine is a primary, fun mini arcade machine readily available for you to buy. It is a game everyone has played at least once in their lives, which is why it is iconic. Pac-Man has become so mainstream that it is now available on all machines.
A mini Pac-Man arcade machine can cost between $20 and $25, depending on where you buy it from and when you buy it. Ms. Pac-Man micro arcade machines are available for around the same price range.
How much does a Small Arcade Make?
The volume of customers greatly influences the income of the arcade. A mini arcade cabinet can make a lot of money depending on its location and the number of games it contains. Arcades can earn $150 to $200 per game per week. However, small arcades have been hit hard by technological advancements in the 21st century and, more recently, the COVID-19 pandemic.
What are the Machines in Arcades Called?
Almost everyone can remember the joy of going to the arcade and playing games for hours. The machines that would have entertaining games on them are called arcade cabinet machines. There are different types of arcade cabinet machines.
However, there is a massive trend of mini arcade cabinets that are portable and convenient to take with you anywhere and at any time. They are available in various sizes. Some can even come with multiple games. You can even find a mini bartop arcade that can be placed on top of your bar.
Conclusion
Mini tabletop arcade games will take you back to your childhood when arcades were the go-to place for fun and entertainment. Best mini arcade cabinets are a great way to experience childhood nostalgia. They are a lot of fun and can provide you and your family with hours of entertainment.
The tiny arcade review provided above is the perfect chance to research the best miniature arcade game options available at your disposal. The mini arcade machine Amazon will show you will be nothing but superior quality to those you would find in stores.
I hope you enjoyed the mini arcade games review. You will be able to get free delivery and free returns for most of the little arcade games that have been mentioned on this list. So you must try the best small arcade machines. So, you must get nothing but the best for your nostalgic arcade gaming experience.