When choosing the arcade stick that will stay with you for a long time and give you the best performance possible, the choices seem to be overwhelming. Of course, many factors start to come into play once you dig deeper in. Factors include button type, joystick type, compatibility, lifetime, and more. Even though you're either a novice or a professional who's been in this business for a long time, you always want to study before you purchase your arcade stick carefully.
There is a lot of debate about which stick is the best in the fighting game community. HORI, Razer, Mayflash are powerhouses when it comes to arcade sticks. However, one name that has consistently been responsible for putting out tournament-grade arcade sticks is Qanba.
Qanba arcade sticks have been the choice of many professionals for years now, thus proving Qanba's superior quality. Not only is it of excellent quality, but it is also a very reasonable choice because it will not burn a hole in your wallet. In the Qanba fight sticks, five names stick out. They are worthy of mentioning not only due to being in the Qanba lineup but also because of how great they are overall. So today, I'm going to be doing just that.
Top 5 Best Qanba Drone Joysticks
Below, I will review the 5 best Qanba Drone joystick and arcade sticks you can buy on a budget. At the bottom, you can also find some FAQs that can come in handy for your information. So, let's dig right and get started on the 5 best Qanba drone joysticks we should look into.
1.

Qanba Drone Joystick for PC, PlayStation 4, and PlayStation 3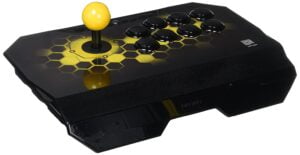 The Qanba Drone joystick is known for its great bang for buck performance. In the market where a good arcade fight stick will set you back more than $100, Qanba Drone stands out. In Qanba's budget lineup of arcade fight sticks, the Qanba Drone stands out for several good reasons. And this Qanba Drone review is going to explore that. From everything great about this fight, stick to its shortcomings; let's get right in.
Note: This fight stick is available in other variants, too, a much favored one being the Tekken World Tour Edition.
Build and Design
The heavyweight of an arcade fight stick is quite essential because you want that weight sitting on your lap or your table. Should the gaming sessions get too intense, you don't want your arcade fight stick moving around too much as it can cause further problems. The previous two mentioned Qanba fight sticks do an excellent job of weighing them. However, the Qanba Drone feels a little lacking behind in that department. Luckily, it's not devoid as it is an official Sony licensed product.
That means that the PS buttons such as Start, Share, etc. Qanba Drone also has a toggle for Tournament Mode, preventing these buttons from registering when you're in the middle of a game. Qanba Drone, too, has the Taito Vewlix layout of the buttons. The eight buttons are Qanba buttons, the same as most Qanba sticks. For a budget pick and the Qanba Drone joystick price, Qanba buttons are pretty decent. They may feel a little loose, but rest assured they will work well. There will not be any case of your Qanba Drone failing to register a button you pressed.
Features and Performance
The Qanba Drone fight stick is fully compatible with PS3, PS4, and PC. Getting it to work on a PC does take a little bit of time and patience. However, we'll get to that in the FAQs below. As for the modding, it is pretty straightforward. The honeycomb structure of the internal component makes for easy swapping of the buttons and the joystick. And should you want to replace the honeycomb artwork that comes with the stock version, you can do that quite easily.
And lastly, there is also a little compartment where you can tuck away the cable and prevent unnecessary clutter. Using the Qanba Drone fight stick, you'll find that this is quite a fantastic catch. The performance you get from this fight stick for a reasonable price is well worth the praise. It may not be the professional's choice since it just does not have that tournament-grade ooze about it. However, the Qanba Drone is perfect for beginners and pros alike. Not only for learning your hand on a fight stick and modding since Qanba Drone modding is relatively easy.
Pros
Bang for buck performance

Easily upgradable and moddable

Qanba buttons and joystick are great for the price.
Cons
The case is plastic, so it doesn't have a lot of weight about it

Running it on PC can be a bit of a drag since it requires additional work
Verdict
For those who want the whole arcade fight stick experience without having to spend too many big bucks, the Qanba Drone is the ideal pick. Due to the case itself not being too heavy since it is made of plastic and the Drone lacking the weight required, it gives off an unsatisfactory feel that professionals are not into. However, there is no doubt that you get what you pay for with the Qanba Drone fight stick. It is an easy yes for beginners or even some veterans.
2.

Qanba Crystal Joystick for PC, PlayStation 4, and PlayStation

3
When looking for an arcade fighting stick or Joystick, the essential factor is compatibility and portability. You can't have separate fight sticks for each console that you may encounter in different tournaments. Not only is that not plausible, but it is also quite expensive.
The Qanba Crystal is a fighting stick that will quickly leave its mark. Not only due to its 3-way compatibility but due to its performance and build. So, why does this fight stick deserve the spot of number two in this list? Read on to find out.
Build and Design
The Qanba Crystal arcade fight stick has a lot of real estate, perfect. Its size, of course, does limit portability because it is difficult to carry this around. You'll find the standard eight buttons along with seven additional buttons on the side. Those additional buttons are for PS Home, Start, Share, etc. Like most Qanba sticks, this one has Qanba OEM buttons and a joystick. Qanba OEM parts are not Sanwa grade because they are not as long-lasting and responsive.
Despite being good enough to be used at high-level gameplay, people still prefer Sanwa buttons and joysticks. It brings us to the next point. Modding. The Qanba OEM buttons and joystick with the Qanba Crystal fight stick have LED functionality. You can turn them on, and they'll emit lights that look good. If you choose to go for Sanwa buttons, you will have to give up the LED functionality with the stock version of this fight stick.
People familiar with what they are doing when modding sticks can find a workaround, but beginners might have a tough time. The arrangement of the buttons also follows the Taito Vewlix layout, which is pretty much what you can find everywhere. And lastly, yes, the Qanba Crystal has additional buttons on its side that you can easily find. That includes a button for Tournament Mode as well.
Features and Performance
Qanba Crystal's Qanba buttons are not up to Sanwa buttons and joystick standards. After all, Sanwa has been in this business and has perfected its art. Qanba buttons are not bad per se, but they resemble the feel and response of Sanwa buttons quite a bit. But, Qanba arcade fight sticks have an excellent reputation for working seamlessly for a long time. The Qanba buttons feel a little spongy, primarily if used to Sanwa buttons, but you can quickly work your way with them.
At the top, you can find a touch panel integrated with Playstation titles and games. You can use it to navigate the menu or even play other games to allow for such support. The Qanba Crystal is diverse that way. I don't think you'll spend much time practicing your hand on games that aren't arcade games on a fight stick. But, the option is there should you want to avail it. This PS4 arcade controller looks good and performs excellent, earning outstanding performance and aesthetic points.
Pros
Magnetic handle and USB cable compartment help in carrying this around

LED functionality further adds to the looks department of this fight stick

Compatible with PC, PS4, and PS3

Very low input lag and buttons are pretty responsive for what they are
Cons
It would have been better if it had Sanwa buttons for this price.
Verdict
The Qanba Crystal arcade fight stick is a great controller with performances and looks. You can choose between three different modes of LED functionality. On top of that, it also has a magnetic handle and a USB cord compartment, which helps with using this arcade fight stick for tournaments. The touch screen can be considered a PS4 arcade controller since it is pretty versatile. It seems a little pricey, and it would have been better if it had been equipped with Sanwa buttons.
3.

Qanba Q1 Joystick For PS3 & PC (Fightstick)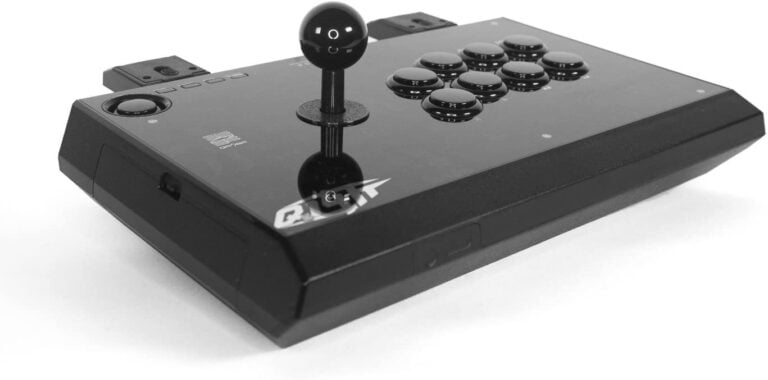 We have the Qanba Q1 arcade fight stick for the last spot on our list. The Qanba Carbon and the Qanba Q1 are pretty similar. The Carbon is an updated and newer model of the Q1. The Qanba Q1 is a very friendly priced arcade fight stick that is still viable. Qanba does not cut a lot of things with the Q1. But, let's dig in deeper.
Build and Design
The Qanba Q1 arcade fight stick is available in two different variants- black and white. The size of the Qanba Q1 is a compact one. However, it is not tiny. And boy, does this fight stick look great. Even the default artwork is soothing to look at. There is enough space on the top panel for you to rest your hands while you play your game. The 8-buttons follow the Taito Vewlix layout, so they're centered somewhat around the middle. The material used is quite durable and can withstand rough use.
Qanba Q1 also has the traditional Qanba buttons and joystick. Given the price and the intended audience for this fight stick being mostly beginners and budget pickers, it gets things right. Along with detachable table clamps, the Qanba Q1 also has PS Home, Share, Start, and Turbo buttons on the top panel. You can also find a little compartment to store the USB cable. A more petite frame and room for holding the cable make it relatively easy to carry around.
Features and Performance
The Qanba buttons and joystick are far from being at the top of the market. However, they are going to be great for beginners. For those just starting by using a fight stick for the first time, the Q1 will be a great choice. It is compatible with PS3 and PC right out the box, so you can have it up and go in no time. The 4ft USB cable might be a problem, but you should be able to find a workaround.
Modding the Q1 is relatively easy as well. You simply need to unscrew a few screws and pull out the case. However, there is one problem that becomes annoying. Since this was the older version of the Carbon, the PCB could not withstand long-term use. It has a cheaper price tag than many and does not compromise on quality in many departments. However, it does not have a very long lifetime.
Pros
It comes with table clamps that can stabilize this stick

A tremendous entry-level fight stick

Size is not too small, nor is it too big
Cons
Qanba buttons are not the best for people who are looking to up their game

The cable is relatively short
Verdict
The Q1 fight stick is a decent entry-level arcade joystick that beginners can adore. It may not have the same flagship features and components. Still, its ease of use, cheaper price tag, and easy modding make for an enjoyable experience for beginners and professionals alike.
4.

Qanba Carbon Fighting Stick for PC and PlayStation 3 (Joystick)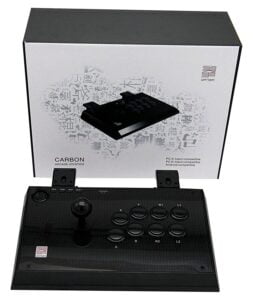 When you think of a fight stick offering a versatile compatibility list, one thought probably never crosses your mind. Android. That's not the case with the Qanba Carbon fight stick. This Qanba fight stick isn't just for PC and PS3 but for Android phones. Connect a converter to it, find a game that will work with this, and you can use your Qanba Carbon fight stick on an Android device. But, that's not the only highlight of this fight stick.
Build and Design
Despite having a cheap price tag, the Qanba Dragon doesn't take many hits in its design or looks. On the contrary, the stealthy black looks pretty good and can go with anything. Luckily, this fight stick has sufficient weight that wins some points. In addition to that, this Qanba arcade stick also has table clamps on it. The clamps can help secure the Qanba Carbon in position, and you will not have to worry about it moving around too much. Clamps may not be everyone's cup of tea, but the option to use them is there.
The Qanba Carbon follows the standard 8-button layout, so there aren't any complaints. The buttons and joystick are Qanba buttons. There is a problem with the joystick, and that is that when you push it in one direction too hard, it gives off a clunky feel. In addition to that, the Qanba buttons on this Qanba fight stick have a spongy feel about them. They do not feel as responsive as they should. Other than this, you can find all the additional buttons, including Tournament Mode, on the top section of this stick.
Features and Performance
Due to the joystick and buttons not being of superior quality, this fight stick feels a little tainted. The Qanba Carbon is a good catch for what the money is offering. However, certain things could have been improved. Once you're familiarized with Sanwa buttons and joystick quality and responsiveness, the difference becomes quite visible. But, the fact remains that this is a good joystick for casual gamers since it does give good value for money.
The Qanba Carbon is compatible with PC, PS3, and Android devices. This fight stick shines when it comes to using it on PC. You can change the compatibility from D-input to Xinput, making PC usage quite friendly. Plus, the firmware updates are significant, too, which is why the Qanba Carbon is the best arcade joystick for PC. However, the lack of PS4 support is quite disappointing. This arcade fight stick could have earned a higher spot had that been an option.
Pros
Switch between D-input and Xinput on PC

Stealthy black looks aesthetically pleasing.

Table clamps should you want to use them.
Cons
Buttons feel spongy, and the joystick also doesn't feel as responsive

Lacks PS4 and Xbox One support
Verdict
The lack of PS4 support and the spongy button is disappointing because you must accept the Qanba Carbon fight stick. It is a budgeted fight with an upgraded Qanba Q1 fight stick model mentioned below. Its PC support and compatibility make it an excellent choice for those on a PC. However, there sure is room for improvement with this fight stick.
5.

Qanba Q4 Q4RAF Black Joystick For Xbox 360 & PC & PS3 (Fightstick)
The Qanba Q4 Q4RAF is among the more pricey fight sticks that you can find on this list. However, a high-end flagship arcade fight stick gets the job done well. With Sanwa buttons and joystick, small size for portability, the Qanba Q4 Q4RAF is a tremendous budgeted and high-end arcade joystick.
Build and Design
The first and foremost topic is the build quality, and the Qanba Q4 Q4RAF looks. The Mad Catz TE fight stick and the Qanba A4 Q4RAF look a little similar in their frame. Much to my liking, the Qanba Q4 has a nice weight about it supported by a solid and durable structure. However, the most important and distinguishing factor in an arcade fight stick is its buttons and, of course, the joystick itself. Qanba Q4 Q4RAF has Sanwa buttons, and a joystick which is not very common in Qanba sticks since they usually use their own.
The Qanba Q4 Q4RAF has 8 Sanwa OSBF-30 buttons and a Sanwa JLF joystick. The Sanwa buttons and joysticks have remained on the top of the arcade fight stick industry and market for a long time from all standards. And they continue to do so. With tactile and very reactive responses, the Sanwa OSBF-30 buttons are as good as it gets. The buttons are positioned in the Taito Vewlix pattern, which has remained to be an ergonomic choice. For games like Tekken or Street Fighter, the Taito Vewlix is preferred.
Features and Performance
When gaming on an arcade stick, once can sometimes get a little overwhelmed and end up pressing buttons that you may not want to. On the top panel, you can find a button that lets you switch on Tournament Mode. The Qanba Q4 arcade stick prevents buttons like Start from being registered when you have toggled on. It is essential as hitting Start and pausing the game during a tournament match can disqualify you.
You have to remove the plexiglass and sticker by unscrewing the screws and pulling them off for modding. Once exposed, you can see that all the components are laid out pretty straightforwardly. Modding may not be a super cakewalk, but it is simple enough. Although you already have the Sanwa buttons and joystick, they should be good enough for even the pickiest gamers. As for how they perform, as exquisitely as ever. There will rarely be a case of the buttons sticking too much or not being registered. Sanwa buttons and joystick are designed to withstand long-term usage, so you are perfect to go.
Pros
Sanwa OSBF-30 buttons and Sanwa JLF joystick

An excellent weight to it assures that it can withstand long term use

Features Tournament mode

Modding is relatively easy and can be done by anyone.
Cons
Need to use an adapter to be able to play with a PS4 or Xbox One
Verdict
The Qanba Q4 Q4RAF is an excellent arcade fight stick designed to please everyone. It has Sanwa buttons and joystick and has easy modding capabilities. And the Taito Vewlix layout of the buttons makes it ergonomic and ideal for Street Fighter and Tekken games where a different playstyle is involved. However, there is a downside to this: it is only compatible with PC, Xbox 360, and PS3. If you want to use this PS3 fight stick on a PS4, you must use an external adapter.
Final Thoughts
Having gone through this list, you should know by now which Qanba joystick is the best for you. These are great in their way, but they are all pretty reasonably priced. When choosing one, you need to consider a few factors to help you determine the right pick. Factors like price, button type, modding, compatibility, etc. If you want the edge in your arcade games, you must pick the right one. Professionals and veterans who have been in this business for a long time are well aware of these factors. And they know how to measure them and determine which will suit them best.
Beginners can sometimes feel a little overwhelmed by all the factors that can play. However, the fact also remains that you may not always pay attention to the most minute details. If you are just starting your hand in arcade joysticks, you should look for a reasonably priced arcade fight stick. Sanwa buttons and joysticks are tremendous and the best of the best, but they can get expensive. So if you don't have the money, going for a budget arcade joystick can be a great idea. After all, you can mod them and make them your own by adding your personal touch as well. Reading this list should help you decide which one to get and why to go for it. If you have further questions, please let us know in the comments.
Frequently Asked Questions
When replacing the Qanba Drone buttons, you unscrew and remove the screws at the bottom. Once done, pull apart the panels, and the Drone should split up.
You should be able to see the PCB and the buttons along with the wires connecting them. When replacing the buttons, it is essential to have compatible ones. Qanba Drone uses 30mm buttons, so you'll want to have those in hand.
Once you have unplugged the wires from the buttons, simply push them out, and they'll snap right out. You will then push the 30mm buttons on hand in the cutouts, and they will snap right in. Next, you need to plug the wires back and then attack the panel and screw it in place.
How to use Qanba Drone on PC?
While the Qanba Drone is compatible with PC, it can be painful to recognize. Steam has updated their support for games like Street Fighter V, so it shouldn't be a problem.
If your Qanba Drone is still not recognized, you will want to switch the mode from the buttons on top. You can also reinstall your drivers for the arcade fight stick to resolve the issue of the Qanba Drone not being recognized, should you encounter this issue.
How to change Qanba Drone Controls?
Steam is now able to recognize arcade fight sticks as well. And you can see that the Qanba Drone has a Mode button that lets you switch between different input types. When using the Qanba Drone, switch it to PS4, and Steam will recognize the Qanba Drone joystick as a PS4 controller.
That will let you remap the controls. If you encounter problems despite this, go to Human Interface Devices in your Device Manager. From there, find the Qanba Drone joystick and disable the device while in PS4 mode.
How to use Qanba Drone on a Switch?
The Switch has a decent collection of arcade fighting games now, with more and more being added. Some Qanba joysticks, including the Drone joystick, are not directly or officially compatible with Nintendo Switch.
To use a PS3 or PS4 fightstick on Switch, you need a PS4/PS3 to Switch converter. These things can be bought easily and are usually around $30-40. Simply connect the converter to the Qanba Drone, and you're good to go for using it on your Switch.
What laptop is compatible with Qanba Drone?
Same as a PC, laptops are also compatible with Qanba Drone joysticks. Provided you have the drivers, you can use your Qanba Drone or any other PC-compatible arcade joystick on a laptop as well.