Like the pool, foosball, and other arcade games; Cocktail arcade machines are another way of gathering family & friends together for having a great time and reliving those childhood nostalgic arcade eras.
Any gaming room or a gaming den is incomplete without a cocktail arcade machine. If you are interested in upgrading your arcade collection then we have a list of the best cocktail arcade machines.
These arcade tabletop machines impressed us with their unique features among others and passed our quality criteria. With our definite guide pointers, you will know what to look for in THE RIGHT cocktail arcade machine for yourself.
It is easy to confuse any arcade machine as a cocktail arcade machine but that is not the case!
What is a Cocktail Arcade Machine?
A cocktail arcade machine has a flat glass top like a table with an upward facing gaming screen, unlike an upright cabinet. It has controls on both sides of the table for players to play comfortably while sitting. Players can also place their drinks and snacks on top of the table.
A cocktail arcade machine also goes by another name which is "cocktail cabinet". You will find different variations in cocktail arcade machines like tilting tabletops, oversized LED displays, thousands of game options in one, and much more.
Top 5 Best Cocktail Arcade Machines
After thorough research and testing, this is a list of the 5 best cocktail arcade tables tops in our opinion that would be a great addition to any gaming room with a description of their features, pros, and cons.
1. Doc and Pies Arcade Factory 2 Player Cocktail Arcade Machine – Budget Friendly
Looking to enjoy retro arcade games in an affordable range then don't look past the "Doc and Pies Arcade Factory Cocktail Arcade Machine". It offers all the exclusive features of a cocktail arcade machine at a budget-friendly price.
You can enjoy a total of 60 classic retro arcade games of the 1980s like Pac-Man, Frogger, Centipede, Donkey Kong, and Burger Time, on a high quality 19″ LCD with joystick & button control on both sides. To get the full list of the games you can either email or visit their website.
We witnessed sound quality build and it comes with a 2 year warranty on it. However, with just a little more investment you can get all these specs with an addition of 412 games. The design and build of this cocktail arcade table enable easy mobility.
Tip: It does not come with a volume switch so we suggest setting the volume while you are setting up the table with a screwdriver on a tiny knob on the PCB board otherwise you might have to reopen the top.
Comes at an affordable price.

The cocktail arcade table has good quality and durability.

It consists of 60 classic games.

It's pretty simple and quick to assemble.

It is portable as well.

Great customer service
The top design or table graphics may not be liked by some people.
2. Creative Arcades Full Size Commercial Grade 4 Player Cocktail Arcade Machine with 3500 Arcade Games
Ratings: 92
Weight: 200 lbs
Warranty: 3 Year
The Creative Cocktail Arcade Machine is the best example of the modern style. It features a high quality tilting screen of 32″ where you can move the screen upright like in a standard arcade cabinet.
You can switch between a coin or free play system to use this arcade tabletop commercially or accordingly.
It comes with the big arcade games package of 3500 and includes accessories like LED and two stools. This cocktail arcade cabinet assists four players with gaming controls including buttons, 4 Sanwa joysticks, and trackballs. The creative also offers different ranges in several games and screen sizes as well.
We loved how it came fully assembled and was "plug and play" ready. We didn't waste a minute playing it or should say testing it out. The table has a strong build due to its tempered glass and its impressive finishes. You can get the whole gaming list via email.
Tip: For better installation, confirm the dimensions with the seller beforehand to decide where to place or install it because it is really heavy to move around.
It comes fully assembled.

Big arcade games package of 3500 games.

It has a nice and sturdy design & built.

The arcade tabletop machine features a modern tilting gaming screen.

The Creative gives access to the gaming list via email.
It is expensive and is heavyweight.
3. Creative Arcades Full-Size Commercial Grade Wine Barrel Style Pub Arcade Machine
This cocktail arcade tabletop has the classic pub look design featuring over 400 arcade games on a 15″ LCD screen.
It has impressive finishes and comes with a different wine barrel finish color range with a warranty of 3 years.
It has both a coin/free operating system and comes along with 2 stools. It has a nice slim sleek design that does not require a lot of space to be installed.
We didn't have to do any assembling in it and there is also a volume control button inside the cocktail arcade cabinet which is a pretty handful. We can say for sure it has great quality because it has round tempered glass and the production of the Creative has a wide range of cocktail arcade machines.
It has a nice slim wine barrel design look.

You can enjoy a total of 412 arcade classic games.

It comes fully assembled, and ready to play.

The build is strong and reliable.

It comes with extra accessories like two bar stools.

This arcade tabletop comes with a volume control button.

Great customer service.
The screen size is small compared to other cocktail arcade cabinets.
4. Arcade1Up Cocktail Arcade Machine
Ratings: 20
Dimensions: 23.54 D x 35.98 W x 28.97 H
Weight: 64.63 lbs
Introducing a cocktail arcade tabletop on a classic and all-time famous/favorite game Ms. PAC-MAN by Arcade1up. It features a 17″ LCD screen, 2 player controls on each side, and adjustable volume settings.
We find this home arcade cabinet assembly the easiest as compared to other cocktail tabletops on the list.
Along with Ms. PAC-MAN, you can enjoy 11 classic games including Mappy, Galaxian, Galaga, Galaga 88, The Tower of Druaga, Dig Dug, Dig Dug II, Rolling Thunder, Rompers, PAC Mania, and Rally-X.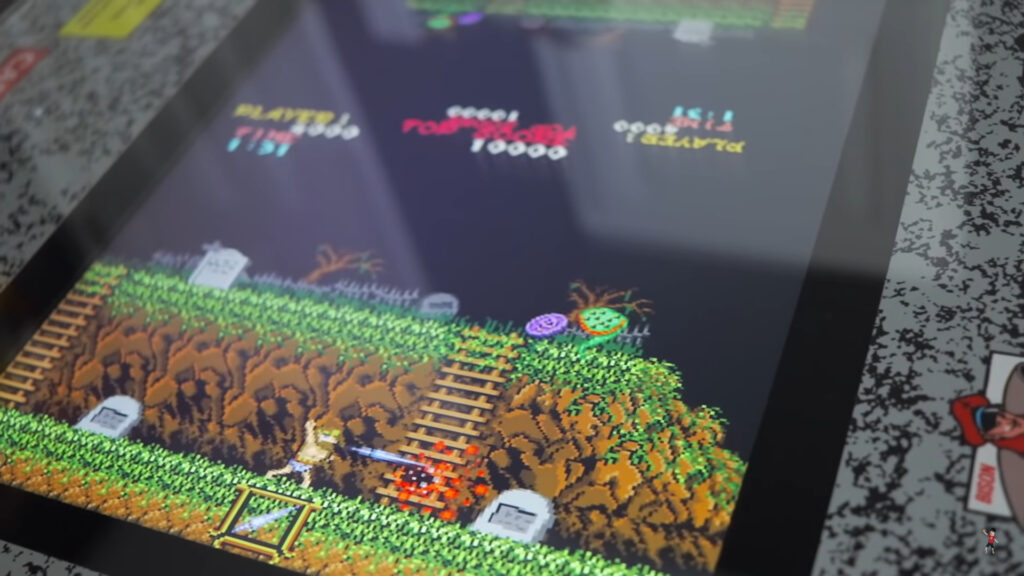 The build is durable and reliable.

It has a protective layer on top to protect the screen.

This arcade table game gets delivered fully assembled to your doorstep.

It has a volume control button.

Along with Ms. PAC-MAN, you will get additional other 11 classic arcade games.
Not including a wide range of games.
5. Prime Arcades, LLC 60 Games in 1 Cocktail Arcade Machine
You get to relive fond memories of nostalgic 60 classic arcade games like PAC-MAN, Donkey Kong, and Space Invaders; with this cocktail arcade table.
This arcade table comes with two stools and is fully assembled at your doorstep. It has 19″ of great quality graphics LCD with thick tempered glass on top of reliability & durability.
Prime not only just offers a 5 year warranty with its arcade tabletop but also the service of lifetime tech support. It had both coin and free play modes. You also get the whole arcade gaming list from the manufacturer.
What we liked the most is its white-glove service for transferring the arcade table from one place to another if assembling & disassembling are required.
It offers lifetime tech support.

The quality and durability of the arcade tabletop are reliable.

It comes with a 5 year warranty.

Extra accessories like stools are included with the package.

Prime also offers a white-glove service.

It comes "plug and play" ready.
The gaming screen is just 19″ with all the specs & graphic quality which could be a bummer.
Buying Guide Pointers for Choosing the Best Cocktail Arcade Table
Everything you buy is going to cost a fortune so it is crucial to know about a thing or two beforehand to make the wisest purchase decision; because honestly, cocktail arcade tabletops don't come cheap.
Our following buying pointers will help in narrowing down options for cocktail arcade tables to the final best one for you.
Just keep these pointers in mind while you are shopping for these arcade cocktail cabinets.
Game Options –

What do you like to play? 
You will find fewer arcade games or thousands of arcade games in one cocktail arcade machine. The ones that have a few arcade games are cheaper compared to the ones offering thousands of options.
So Make sure the cocktail arcade table you're considering has your all time favorite arcade games because manufacturers don't publish the list in the product details.
It would be a bummer to end up with a cocktail arcade table that doesn't have your favorite childhood arcade game.
You can ask for the game list directly by emailing the company or sending an online message to the customer service number. Surely a large number of arcade games also means an unlimited span of entertainment time with friends and family.
Number of Players – Multiplayer Option
1,2 or 4 player option is available in the market. This pointer solely depends on your preference and usage. Many purchase cocktail arcade tables as a fun aid for friends & family gatherings.
For that sole purpose, getting a four player cocktail arcade table is ideal, however, we must add that we find a 4 players arcade table a bit uncomfortable for players 3 or 4 due to the interference of table legs in between players' legs.
Until and unless you are pretty sure, that 4 players are good enough for you otherwise a two-player cocktail table serves the best with the most ease in playing games and having a fun experience.
Gaming Controls
You will find arcade cocktail tables with several buttons, Joysticks, and trackballs. For a better version of a fun experience, it's good to look for at least 2 to 3 buttons on each side of a cocktail arcade table. It will revive that nostalgic arcade gaming experience.
Either you will get joysticks or trackballs along with the buttons. But there are numbered games that use trackballs; mostly arcade games are played with Joysticks.
Coin Operated
This feature is for die-hard fans of arcades who want to have an exact arcade feeling and don't want to compromise on anything. Although coin-operated cocktail arcade cabinets are hard to get by, with thorough research you might find one.
Cocktail Arcade Cabinet Dimensions
One of the main pointers you need to consider is the size of the machine. Where do you want to install it? And do you have enough space for an arcade tabletop? Don't just depend on the images provided by the seller, confirm the size with them before placing your order.
Cocktail arcade cabinets vary in size and sure are heavy around 200 lbs; so make sure that along with placing the arcade tabletop, players have enough space around to sit comfortably.
Screen Size & Aspect Ratio
The bigger the better… The screen size varies from 19″ to 32″ in the market. The big screen will have quality pixelated graphics and will be easy to eyeball the gameplay as compared to small screens. Although bigger screen cocktail arcade tables are expensive.
Older design-themed cocktail arcade tables will have a ratio of 4:3 whereas the newer wide-screen ratio is 16:9 with black bars on the side of the screen.
Quality & Durability of Cocktail Table Video Game
Along with the design and looks of the cocktail table with arcade games that match your gaming den or room, it needs to be well built and strong.
Check the quality and durability of the components of the table. Materials like MDF board, plywood, tempered glass top, and thickness of glass, that makes up arcade tabletop machines, offer more quality, reliability, and durability than other materials.
Warranty
This pointer gives some peace of mind to buyers because cocktail arcade cabinets are expensive, bulky, huge, and made of different parts.
You don't want to end up with a broken table due to an unfortunate delivery accident or without any warranty or money back policy. You will find 2 to 3 years of warranty on many arcade tables but some companies offer less so look out for this one.
Other Unique Features
Included Accessories: Many companies offer the whole accessories package with the cocktail arcade cabinet like tools, LED screen lighting, and tilting screens. The heavier arcade tables have higher quality.
Power: Most standard cocktail arcade tables run on a 10 amp power plug. Look through the details of the product to see if it's cable-operated because it's the last thing you want to deal with. Not only does the scattered wire on the floor look hideous but is a dangerous hazard; anyone could trip from it.
Operating System: arcade table tops operate similarly to a console. These have their digital operating system and load straight into gaming mode. You only need to know about this in case you want to add customized games to your cocktail arcade table.
Reviews
Mark our words, customer reviews help a lot. These are like guarantees towards the quality of the companies. You might also find a few helpful tricks or tips on cocktail arcade tables.
Assembly
Believe it or not, not all of us are experts in putting a product together. You will receive your cocktail arcade cabinet either fully assembled, half-assembled, or would require a little bit of assembling. If you are not confident in your DIY skills then look for "white glove installation service".
Some companies offer it but not all of them. Checking this out with the seller will save you a lot of time and effort as well.
Price
The video game cocktail table has a wide range of prices from around $1000 to $30,000. The bigger you go be it the size or number of games included the more expensive these arcade tabletops will get.
Work out a budget limit for better decisions because it all comes down to your requirements and preferences.
Conclusion
Adding the best cocktail arcade machine in your home, office, or gaming room would level up your gaming experience because of newly introduced cool features like tilting screens and LED lighting. It is one of the effective ways to spend quality time with friends and family and to bring back old fond memories.
Our list of arcade cabinets is tested for high quality, warranty, and build.
Before buying any cocktail arcade table do go through our buying pointers to help you finalize the best cocktail arcade machine.
Frequently Asked Questions
What about building my own DIY Cocktail Arcade Machine?
It is really difficult to get every single thing according to your liking in any product. You might get 90% of things according to your choice but there is always 10% stuff on which you compromise.
However, if you want to fully customize your very own cocktail arcade machine then there are different online communities available that guide you through the whole process. You just need to be good with woodworking and tech stuff to operate & install MAME (arcade emulator) in the cocktail cabinet.
It will save you a lot of bucks but not everyone is good at DIY stuff. While it helps you save money and has room for unlimited customization, on the other hand, you would have to spend a lot of extra energy on learning and getting things right.
What games are on a Cocktail arcade? 
The number of arcade games available on a cocktail arcade machine differs from company to company. Some offer a limited number of arcade games and some offer hundreds & thousands of classic arcade games.
You also won't find a detailed list of arcade games installed in a cocktail arcade cabinet product details. However, before placing an order you can ask for the list from the manufacturer via email, customer service, or by visiting their designated website.
What are the dimensions of a Cocktail Arcade Machine? 
The market is full of different sizes, types, and dimensions of cocktail arcade cabinets. Find the one that is ideal for your home, office, bar, or gaming room. You can check the dimensions as well with the seller beforehand.
Do we always suggest asking ourselves these questions like where you are going to install the cocktail arcade machine? Do you have extra space around the arcade table for players to sit down with ease? Will the fully assembled cocktail arcade table pass through your front door? And so on.
Do you have extra space around the arcade table for players to sit down?
The cocktail arcade machines are designed for two players to sit across from each other and play. There is typically enough space around the machine for people to stand and watch, but it is not meant for large crowds.
What happens if I accidentally hit another player?
If you accidentally hit another player, the game will pause and a message will appear on the screen asking if you would like to continue playing. If both players agree, the game will resume. If one player does not want to continue, the other player can choose to play against the computer or end the game.
Cocktail arcade machines are a great way to socialize and compete with each other. They are typically easy to use, and they offer a wide variety of games to choose from. If you are looking for a fun way to spend some time with friends, an arcade machine is a great option.
Why were arcade machines so big?
As video arcade games became more popular in the 1970s, arcades began to pop up everywhere. They were often found in large public spaces like malls, and they needed to be big enough to accommodate multiple players at once.
Some of the earliest and most popular arcade games, like "Pac-Man" and "Donkey Kong," were played on cocktail arcade machines. These machines were tall and had monitors that were positioned vertically, so two players could sit across from each other and play at the same time.
When did cocktail arcade machines become famous?
Cocktail arcade machines became increasingly popular throughout the 1980s, as more and more people began playing video games. They were a great way for people to socialize and compete with each other, and they quickly became a staple of arcades and game rooms.