Immersion in one of the many arcades games in Tokyo, to understand how these "game centers" of the 1980s still exist in Japan in 2020.
Music at maximum volume has escaped from electronic item stores. Dozens of signs proudly displaying the inscription "Tax free shop". Advertising signs ask do you want some, competing in size and colors. There is an almost continuous crowd of passers-by, moving alongside cars and buses.
Welcome to Akihabara, in the heart of Tokyo. Nicknamed the geeks – or otaku – district for its high concentration of manga and electronic equipment stores, the maze of streets is also renowned for its numerous arcades games machine.
Among them stands out the imposing Taito Station Akihabara, one of the 44 "game centers" of Japanese society behind the unmissable Space Invaders, released in 1978 on an arcade machine. At the entrance to the five-story building, Nicole watches her husband play a UFO catcher – a toy catcher – in an attempt to win a Ronflex plush.
"We don't often come to arcades game; maybe once every six months, "says the 27-year-old, without taking her eyes off the mechanical claw. After 20 tries at 100 yen each, for a total of 2,000 yen – 16.28 euros – the couple leaves with the plush. "We would have paid more if we had bought it in stores," rejoices Nicole.
Curious tourists and Japanese cross paths against the background of rhythmic music between the showcases of Pokémon plush toys – Pikachu, Ronflex, Lokhlass, Eevee, Aquila and kawaii – rabbits, cubs and dogs with light tones – dominating the UFO catchers. On the upper floor, also devoted to toy-catching machines, the choreography is repeated, this time between Son Goku figurines and those of other anime heroes, including young girls with disproportionate bodies, dressed in small outfits.
Purikura, Essential in Japanese Arcades
Withdrawal terminals, vending machines for drinks and ice creams, machines for converting banknotes into currency, free Wi-Fi, etc. Each piece is designed to retain potential customers. The plan of the building is displayed in the elevator: the UFO catchers are on the first two floors, while the third mainly consists of cooperative games, that the fourth is reserved for combat and strategy games and that the fifth includes most of the building's dance and rhythm games.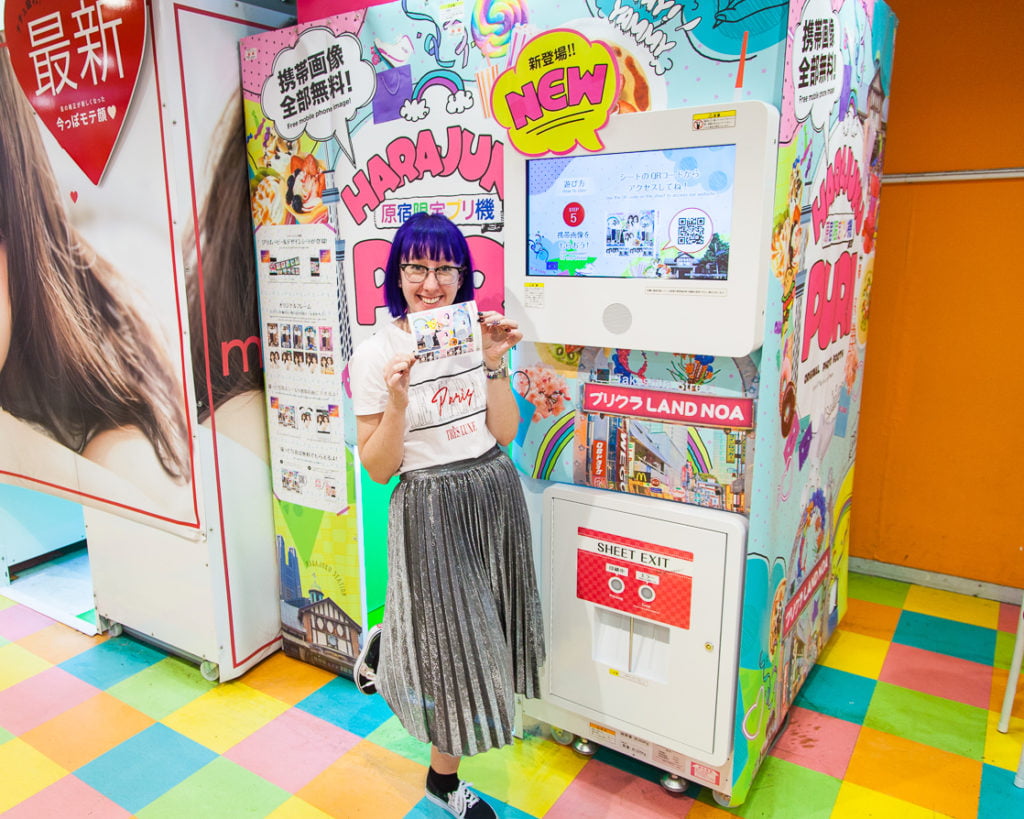 If the organization varies according to the arcades be it the Sega, Taito, Capcom or even Bandai Namco franchises – which sometimes include a level of virtual bets, the classification by floors remains essential.
Here, the purikura is marked with a large yellow poster inviting visitors to descend to level -1. "When you think of arcades game machine, you visualize someone playing alone in front of their screen, while purikura is a very active part of it," said Derrick Espino, sound designer for Sony Interactive Entertainment in Tokyo. It's quite cultural in Japan. "
Far from conventional photo booths, purikura are known to automatically modify the faces of their users: enlargement of the eyes, rosy cheeks and lips. After the photo shoot, it is possible to transform the photo before printing via a touch screen and a stylus, all for 400 yen – 3.20 euros.
This Friday, at 6 p.m., the room's four purikura cabins witness a veritable crossover. As a couple enters one of the boxes, quickly imitated by two distinct groups of teenage girls, a mother and her daughter leave another. "We find that the photos of the purikura are super cute; we are going to take some as a souvenir of Japan, "drop two 23-year-old Taiwanese tourists in their hearts, before entering the barely freed cabin.
"I spend at least 10,000 yen per session"
Near the purikura stand four Mario Kart posts as well as an alley of ten identical terminals, almost all occupied. A majority of men – mainly salary men, these Japanese employees recognizable by their suits – repeat frantic gestures in front of the rhythm game Love Live! School Idol Festival: After School Activity, in which young kawaii girls perform choreography to the tune of the music played.
At the end of the alley, a teenage girl chained the parties. Every day, after leaving high school, she spends 2 to 3 hours here. "I love this game, it's funny and it takes speed," she says with a smile, staying focused on the screen. A few steps away, two young women contemplate a clothes rack – Mario, Luigi, Pikachu, Ronflex, a schoolgirl with free access, intended for consumers of purikura.
If the two 18-year-old friends came at the end of the afternoon to take a picture, one of them, Miho, is used to arcades machines. "I go there on average twice a week," says the medical student, indicating that she stays between 4 and 5 hours each time. "I come to play the manga that I watch, like L'Attaque des titans. I spend at least 10,000 yen per session. " Or almost 82 euros.
Playing in an arcade in Japan: an experience that cannot be transferred to your home
In the case of Miho, why not invest in a PS4, since the game Attack on Titans is available there? She would gain financially: the purchase – less than 500 euros – would pay for itself in three weeks of stopping the use of arcade game room. "Playing indoors is a completely different experience than playing at home," says a gamer in his thirties, who came with a friend this Friday. "It is very exhilarating to see the people around you also being fully in their game. "
Accustomed to strategy games, the 30-year-old also likes to play coop. This Friday, he wanders under the neon lights of the third floor of the Taito building in search of a terminal that would please his friend. If the latter chooses one of the few rhythm games in the room, car racing is legion on this floor, as well as shooter games for two.
Dark Escape 3D, House of the Dead, The Walking dead, Deadstorm Pirates … The principle is the same: to enter into total immersion in a cabin cut from the room by curtains, with the sound at maximum volume.
"In the United States, our arcades machine from the 1980s and 1990s were replaced by home game systems: the idea of ​​having a large living room, with a large screen, and being independent, is very important for Americans, "said Derrick Espino, a hint of sarcasm in his voice. "In Japan, there is no such concept: I saw it when I started working here.
In the United States, when we design sounds for video games, we think of them to be broadcast on a very large system. This is not the case here, where the sounds are more powerful in the arcades machine. I think that is partly why the experience of the arcade games machine cannot be transferred to the home and that the rooms still exist in Japan. "
5,348 official arcades in Japan in 2019
Indeed, if they have almost entirely disappeared from our western societies, 5,348 arcades games machine were officially listed in Japan in 2019 by the JAIA, the association of the Japanese entertainment industry. In the same year, it also listed 10,000 other small rooms, with less than 50 terminals each.
"The companies that own the arcades machine also design games for them, which helps them continue to exist," said Brian Ashcraft, journalist and author of the book Arcade Mania: The Turbo-charged World of Japan's Game Centers, in citing, in particular, the companies Taito and Sega. Banco: on the fourth floor of Station Akihabara, all the terminals of the fighting game Dissidia Final Fantasy produced in 2015 by Square Enix, the company that owns Taito – are occupied by imperturbable players, with impressive dexterity, enjoying the 2-hour mode per 1,000 yen.
Seducing New Generations with Virtual Reality

Although he points out that fewer and fewer arcade games are released every year, Brian Ashcraft sees a future for theaters in Japan. "There is still a lot of innovation," says the journalist. "In the late 1980s and early 1990s, for example, it had better graphics than that of home consoles. Over the past decade, this has resulted in sophisticated card games [like Sangokushi Taisen, a strategy game by Sega, editor's note] and, more recently, in virtual reality. "
Derrick Espino makes the same observation. "Nobody can afford VR equipment at home, especially since it takes space to use it" recalls the sound designer. "I think that is what will allow the next generations to turn to arcades, although there will also always be fans of retro games and nostalgic players. Some kiosks from the 1980s and 1990s are thus scattered on each floor of the building, like Bomberman (Hudson Soft, 1991), Street Fighter II (Capcom, 1991), Super Mario Bros (Nintendo, 1985), or still from the historic Asteroids (Atari, 1979).
"There will always be fans of retro games and nostalgic players"
If the rooms that are starting to equip themselves with virtual reality tend to use their top floor for this purpose, that of Taito Station Akihabara is still devoted to dance and rhythm games. A few steps from the elevator doors, Gabriel and Zachary, two tourists from Singapore, compete in a frenzied part of Jubeat.
The deafening hubbub of fans, as well as salary men, teenage girls, thirties and forties playing GuitarFreaks, DrumMania, Sound Voltex, or Dance Revolution, does not seem to reach the two friends of 24 years.
"We also have arcades machine in Singapore, and I used to play Jubeat a lot when I was younger," says Gabriel, when his game is over. "I grew up with this game and it made me very nostalgic to see it in this room; I couldn't help but go to the terminal ".
As the young man begins to put his jacket back on, his friend interrupts him. "The last part before leaving? Asks Zachary. "Okay, the last one" replies Gabriel, looking decided. The exchange between the two twenties sounds like a catchphrase: it had already taken place, ten minutes before.